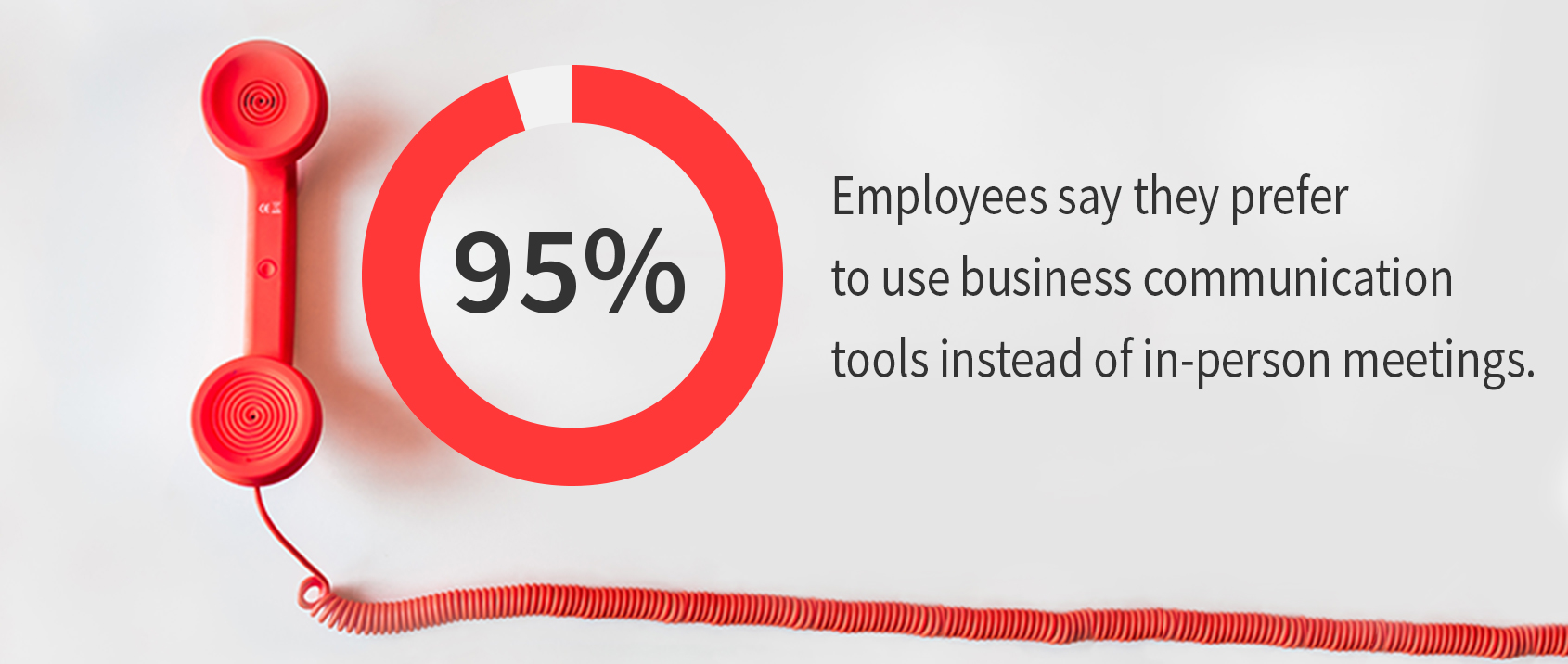 Gone are the days when the workplace was confined to an office where people work side by side. In today's digital workplace, many employees can work anywhere, on any device, at any time. Never has there been a greater need for effective employee communication tools to enable teamwork and collaboration.
The importance of business communication software
The right business tools can make or break employee communication. According to a study by The Economist Intelligence Unit, 63% of employees believe that access to a wider range of communication tools would significantly improve work communication. But that is just part of the story.
A recent survey by Igloo found that a majority of remote workers feel they are missing out on important information or are excluded from meetings. Clearly, there is a need for better workplace communication tools.
Fortunately, your company already owns many of the business tools that can help your employees work together better – but you may not be realizing their full potential. Ready to encourage better adoption and usage? Start by educating and engaging your employees on the business communication tools at their fingertips.
What business communication tools are being used today?
From instant messaging and file sharing to online video conferencing and intranets, everyone is familiar with common tools used for business communication – but is everyone using them?
The answer is yes, to a degree. According to a survey of communications professionals by the PRSA, the most popular business communication tools are email, intranet, and social collaboration tools. However, the findings also showed underutilization of tools such as mobile apps and messaging.
Employees are eager to make better use of these tools. A recent study commissioned by Ring Central found that 44% of respondents are looking for easy-to-use business communication software that can become a natural part of their day-to-day interaction with co-workers. Face-to-face meetings are falling by the wayside, with 95% saying they prefer to use business communication tools instead of in-person meetings.
Business benefits of workplace communication tools
Organizations that successfully engage and connect employees with the right business tools can expect to enhance productivity and create a real competitive advantage. Let's look at four key benefits of implementing effective business communication tools.

10 best workplace communication tools (that you probably already have)
We all agree that business communication tools are important. Now, let's take a look at 10 essential communication software and features that are sure to improve communication, collaboration, and employee performance in your workplace.
Video & web conferencing: Geographically dispersed teams can easily meet, talk, and share their screens in real-time, saving your company time and money in travel.
Chat & instant messaging: Chat is great for facilitating quick discussions and project updates across individuals and groups. It is easy to see this with the proliferation of Slack and Microsoft Teams. Files can be shared instantly as needed, although it is not ideal for document storage and distribution.
Discussion forums: Discussions and knowledge sharing bring management and employees together. If integrated with enterprise search, this can reduce time wasted on searching for previously shared knowledge.
News, blogs, & wikis: Everyone can be kept up-to-date on important company news and updates. Blogs allow leadership to be heard, wins to be celebrated, and priorities to be established. They are also great for sharing knowledge and allowing people to respond via comments, tagging, and rating. Wikis let multiple people contribute to a subject that becomes part of a searchable archive of expertise.
Mobile communication apps: Secure mobile apps make it easy to stay connected to work, no matter where people are physically located. This is especially important in the era of remote work, where your employees can be working from anywhere.
Knowledge hubs: Our survey found that 43% of employees say they have avoided sharing a document with a colleague because they could not find it. Policies, procedures, job descriptions, business plans, or marketing campaigns can all be stored in a central knowledge base for use by employees.
Project management: Project boards such as Trello help teams collaborate, get organized, assign ownership of tasks and project components, reference the necessary resources, and deliver completed projects.
Document collaboration: Documents can be shared and revised with others, in real-time. Google Docs or Box are well-known examples.
Social networks: Inject some fun and a sense of belonging with a social center that strengthens ties between employees. Use social networks as a place to share and find the organization's knowledge and culture.
Intranet: Your organization already has a one-stop digital destination for centralized workplace communication: your company intranet. Intranets come with built-in apps that provide news, team spaces, messaging, content sharing, discussion forums, knowledge hubs, and more for use by the entire company.
Take your business communications to the next level
By making better use of the business communication tools already at your fingertips, you can create more collaborative teams, streamline work processes, and build a more successful business.
If you evaluate your current tools and find gaps in functionality or effectiveness, our next-generation digital workplace solutions can help your people work smarter and faster. In today's workplace, effective communication can be challenging, but with the right business communication tools, it is easier than you think.
Improve your business communications today.