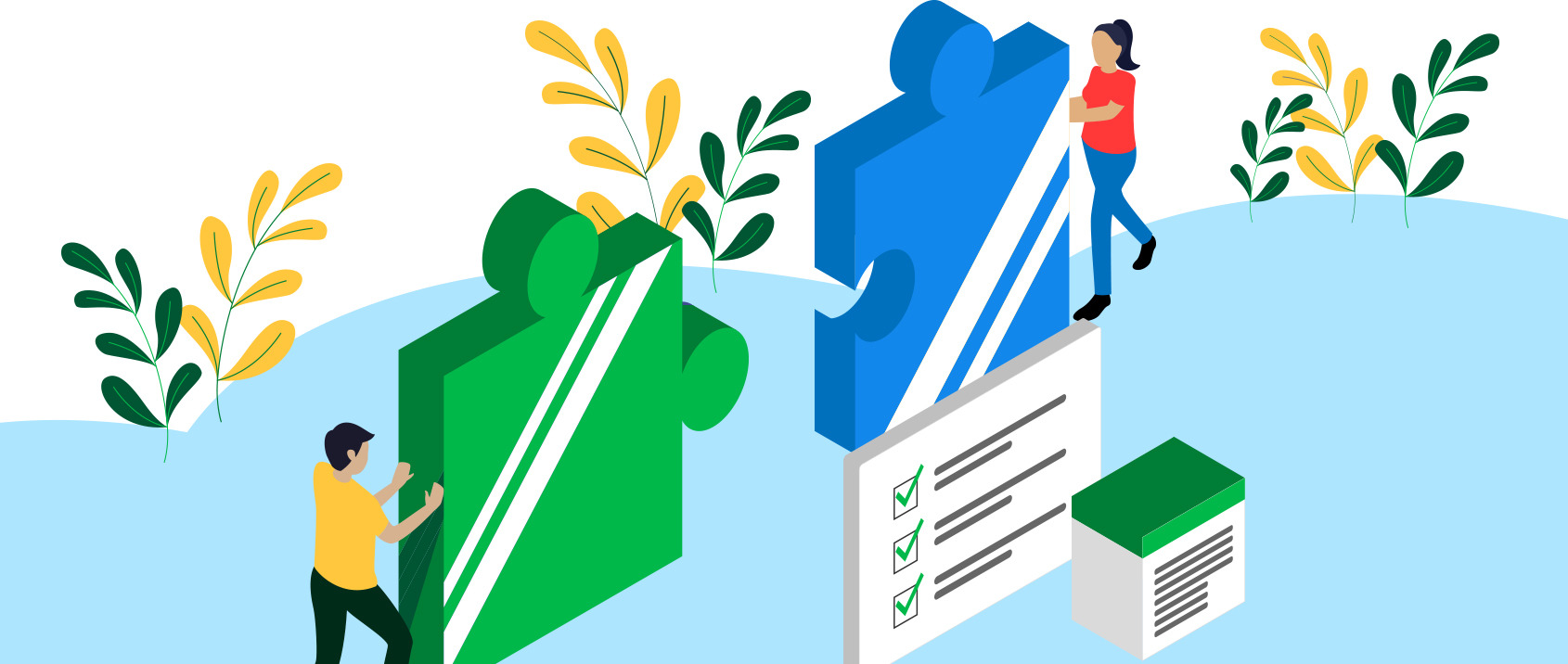 Choosing a new intranet, or digital workplace solution, is a big decision. Before you start looking into potential vendors and technologies, it's important to understand what business challenges you're trying to solve. Only then can you charge forward with a clear vision of what features, capabilities, and services you'll need.
We've compiled a list of 12 questions to help you navigate the internal discovery process, establish vendor requirements, and ensure you pick a solution that will set you up for long-term success.
Look at the big picture
What business challenges are you trying to solve?
Without knowing what challenges you're trying to solve, it's nearly impossible to establish your objectives and get buy-in from leadership and your stakeholders. Be able to explain why this is important, and why it's important now – and use themes like collaboration, communication, knowledge sharing, and culture to get your point across. Then, align your challenges to a set of criteria you can leverage in your evaluation.
Who are your executive sponsor and key stakeholders?
Your executive sponsor will oversee the project (and its success), and also approve the budget. Your stakeholders are the ones who will be implementing or using the solution. Make sure you understand their needs and expectations upfront, so you don't waste time and resources throughout the evaluation. 
How do people in your organization work?
Knowing how your employees work and what tools they use will help you pinpoint what capabilities to look for in a digital workplace solution. Talk to them to learn about their daily workflows and how they could be improved. Make a list of the tools they currently use so you can investigate if your new solution would supplement, replace, or integrate with them.
What's your culture?
Your new digital workplace solution should support your existing culture and engagement activities – not interfere or distract from them. And it should be customizable in terms of structure and design so you can create a digital representation of your company culture that closely matches the experience of being in the office.
What are your future aspirations for the platform?
At Igloo, we like to say "Think big. Start Small. Scale fast." That means setting big, but not unrealistic, goals for your project, then breaking it down into smaller pieces using a roadmap to outline a path to success. Once you start to see progress, you can begin to expand the solution past its original means. Find a vendor who believes in this methodology and you'll be set. 
How will you measure success?
Metrics like "X number of users" and "X number of posts" are good to know, but not without proper context in relation to your objectives. Make sure you have a clear sense of what you're trying to achieve and how you'll measure progress. Then make sure your new solution (and supporting team) can deliver actionable insights – from high-level data points to deep-dive analysis – so your strategy is always evolving.
Think in terms of time, cost, and productivity
What is the time vs. value of the solution?
Simply put, how long will it take to get your new solution up and running, and how easy will it be to maintain? You want to be able to customize your solution, but not at the expense of added time and expert consulting with every change. Ask questions to determine how easy it will be to augment and expand your solution and any limitations you may face.
Who will control and maintain the platform?
If it's up to one department or IT to build and maintain your solution, you'll likely encounter roadblocks. Instead, look for a solution that allows stakeholders and departments to own their own content, while still offering platform-wide administration rights. Not only will this improve productivity and encourage innovation, but it will also give control and ownership to those who need it.
What is the total cost of ownership?
This may seem obvious, but here's the thing: a comprehensive digital workplace solution is more than just a monthly subscription. Consider the upfront costs of implementation, support, and professional services. Also, make sure the platform is easy enough to maintain that it doesn't require additional investment for specialized roles.
Remember, it's a partnership, not a one-time transaction
What's the onboarding experience?
Find out how your vendor will support your digital workplace team, especially during onboarding. You'll need training, coaching, and education provided by a team of people who understand your business challenges and how to optimize the platform to ensure you're solving them.
What does the implementation experience look like?
The implementation stage is often where intranet projects lose momentum. Ask potential vendors to walk you through their process so you can understand what level of guidance and support you'll receive. Depending on the scope or your implementation, you'll want a mix of professional services – like consulting, design, and training – and self-serve resources to ensure everyone on your team is set up for success.
What does post-launch support look like?
As your workplace evolves, your intranet needs to keep pace. Post-launch support goes beyond just tech support. What resources will be available to employees after the solution is implemented? Look for a vendor that will not only support you with technical requirements but also provide advice and best practices as you go along.
What questions will you ask?
Before you dive into the sea of available software solutions, identify the challenges you're trying to solve and resources required, then put together a list of questions to ask each vendor.
Download "12 Questions to Ask Before Choosing a Digital Workplace Solution" for a more in-depth look at the questions we've suggested here.