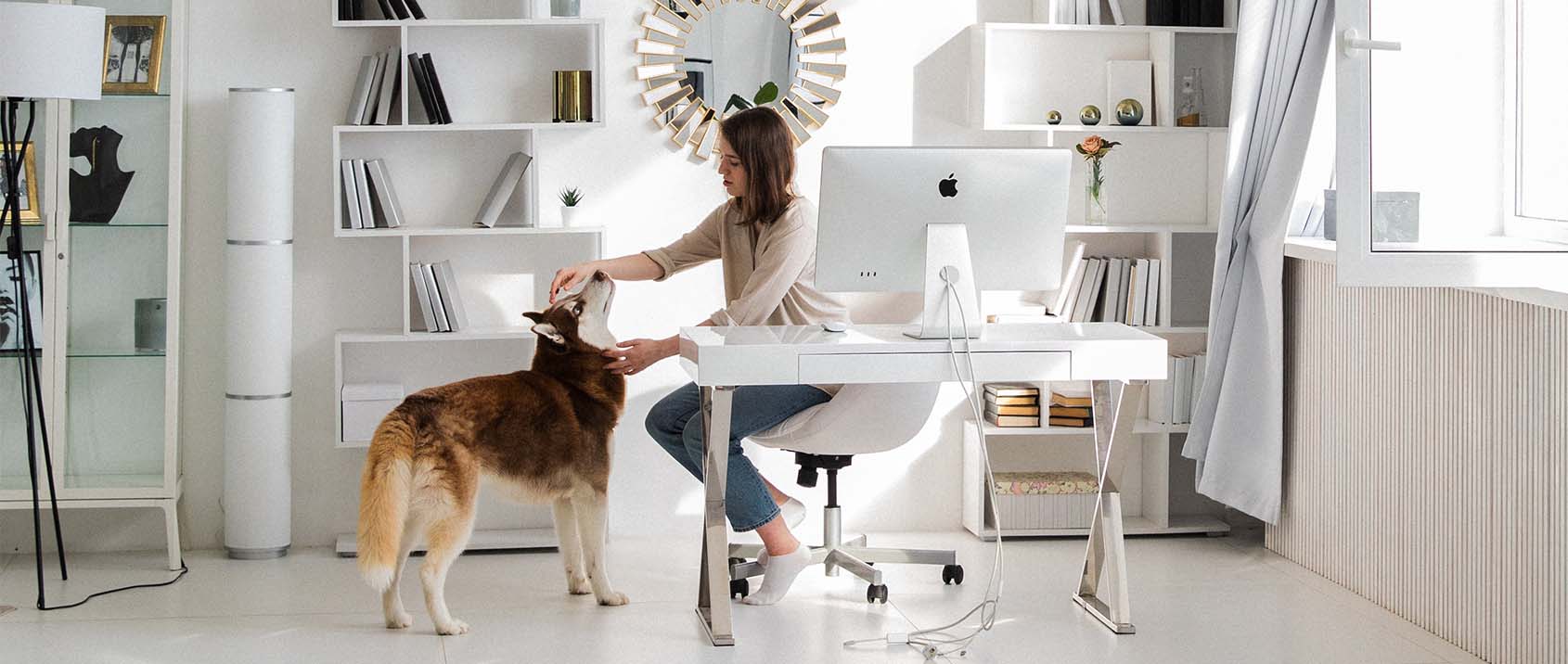 Leading the intranet renaissance with expertise, support, and depth.
Over the past year, it has been clear that the way organizations approach work has fundamentally changed, partially due to the ripple effects of the pandemic. Nearly 48% of America's working population is actively job searching or watching for opportunities that provide flexible work formats. The lost productivity from not engaged and actively disengaged employees is equal to 18% of their annual salary. 1 The 'Great Resignation' and employee engagement trends are causing the intranet industry to undergo a renaissance, and Igloo Software is proud to be a leading provider of solutions during this pivotal time.
During this new dawn in the digital workplace industry, we are proud to reflect on another impactful year of providing our powerful intranet solutions for mid-market and large enterprise organizations. From our success in launching the Igloo Mobile App and advanced user interfaces, growing customer revenue, increasing our employee count on multiple teams, and beyond, we are honored to celebrate this year's achievements, which would not have been possible without the talents of the entire Igloo team.
Expanded and Extended Relationships
The expertise and support that every team member provides to our customers and partners have enabled us to help organizations communicate, collaborate, and engage employees with robust digital experiences. Not only are our employees passionate about helping our customers along the journey to meet and exceed their digital workplace expectations, but they are also able to provide the depth of service that businesses need to achieve all of their operational and employee-focused objectives.
From January 2020 to December 2021, Igloo Software data revealed that the number of active monthly users on our intranet platform increased by 45% for companies with over 5,000 employees and 34% overall. Certain industries experienced sharper increases in active monthly users during the pandemic. There was a 194% increase in the computer/technology industry, 105% increase in retail/wholesale, 85% increase in healthcare, 69% increase in business services, and 56% increase in finance.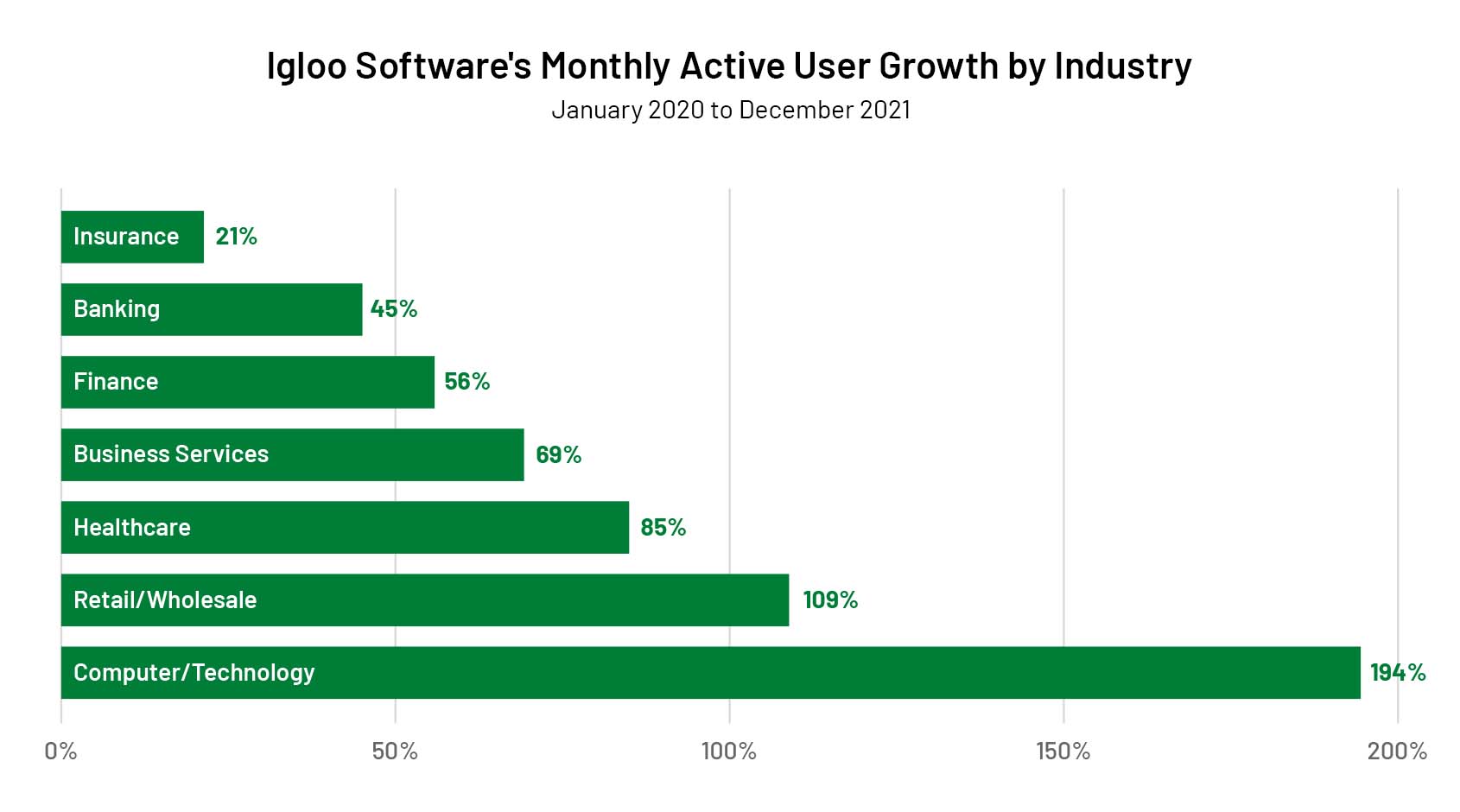 Due to our team's hard work, we signed 10 of our top 12 customers to long-term extensions (the other two were not up for renewal in 2021), held our profits despite increasing internal spend on people and growth, and we built a prospect pipeline that is now 50% bigger than it was in January 2021. Additionally, we more than doubled our contracted annual recurring revenue growth rate from 7% to 15%.
Added New Talent to Support Growing Operations
Given this rapid expansion, we also continued to invest in our internal team. To start, we were able to invest 25% more into our sales and marketing departments in 2021 compared to the previous year and successfully grew our employee count by 15%. We quadrupled our product team, doubled the size of our marketing team, grew our sales team, and added new leadership talent in customer experience, solution delivery, quality assurance, and engineering. We were also pleased to welcome accomplished SaaS growth expert, Scott Shapiro, as Igloo's chief revenue officer.
Received Industry Validation
In 2021, we received multiple industry awards and honors that highlighted the depth of our platform. We were named a Leader in the 2021 IDC MarketScape Worldwide Content Management Systems for Authenticated Digital Workspaces Vendor Assessment2, recognized in the Leader section of Aragon Research, Inc. the GlobeTM for Communities Report3, honored by the Brandon Hall Group Excellence Awards with a Gold award in the Best Launch of a Corporate Learning University4, and in the G2 Fall Report, we received four badges including the prestigious 'Leader,' 'High Performer,' 'Easiest to Use,' and 'Easiest to Do Business With.'5
This past year, and every year, we are proud to be empowering a growing number of modern workplaces with our robust intranet to help streamline their day-to-day business operations and employee engagement. We wanted to say 'thank you' to our Igloo team, customers, and partners. We are thrilled that so many organizations have placed their trust in us to confront a mix of highly disruptive trends and challenges that impact their very survival.
2 IDC MarketScape, Worldwide Content Management Systems for Authenticated Digital Workspaces 2021 Vendor Assessment, IDC #US47412921, September 2021
3 Aragon Research, Globe™ for Communities, 2021: Driving Better Employee and Customer Experiences, Research Note 2021-09v, March 9, 2021
4 Brandon Hall Group, The Excellence Awards 2021, August 2021
5 G2 Research, Fall Report, 2021