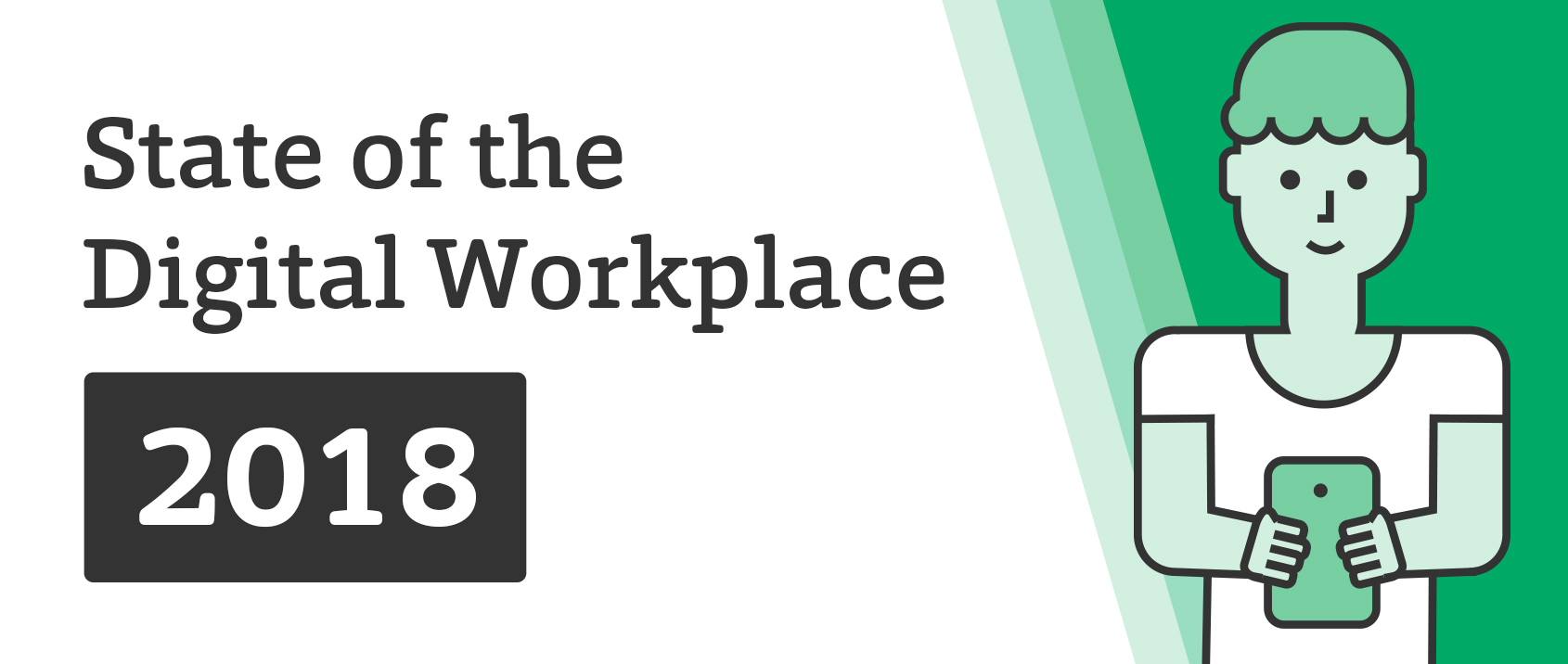 Digital transformation is no longer just a buzzword, but an enterprise priority. By the end of 2019, spending on digital transformation is expected to reach $1.7 trillion worldwide, up 42 percent from 2017.[1]
Many business leaders feel they're in a digital race, with two-thirds saying they believe that their companies must pick up the pace to remain competitive.[2] But how does this sense of urgency play out on the ground? Do current tools enhance knowledge sharing? Do employees trust the security of their internal systems?
We wanted to find out. In a recent survey that polled over 1,000 full-time employees in U.S., Igloo asked these questions and many more to gauge the state of the digital workplace. We discovered that employees are embracing digital tools for communication and collaboration, but they sometimes still struggle to find the information they need to do their jobs. When they do locate a document, they're not always sure it's up to date. Even more concerning, many employees lack confidence in the security of their systems. For enterprises on the digital transformation path, these results reveal significant gaps where new and better solutions are needed.
Employees avoid knowledge sharing when it's cumbersome
The average knowledge worker spends nearly 20 percent of the workweek looking for internal information or tracking down colleagues to help with specific tasks.[3]  It's no surprise, then, that 23 percent of respondents in the Igloo survey said it would take five to 10 minutes just to access the latest version of a standard template or document. Tracking down a basic brand asset – their own company logo – is similarly complicated, with 31 percent reporting that they would use a Google search.
One of the more concerning findings was that 32 percent of employees across multiple industries have avoided sharing documents because they would be too hard to find. For survey respondents in IT, who would presumably struggle less with internal communication tools, that number rose to 37 percent. We also learned that up to half of employees are not confident that the documents they (finally) find are the latest versions.
About an equal portion of employees said they use work-approved apps (42 percent) and nonwork-approved apps (41 percent) for communication and collaboration. Why use unsanctioned apps? The answer was simple: that's what employees use in their personal lives.
Uncertainty prevails with intranet security
With ever-increasing cybersecurity threats to organizations around the world, data protection should be paramount for any intranet. Yet 27 percent of employees said they know their business has security protocols in place for sharing information from the intranet, but they aren't familiar with those guidelines.
Perhaps because of that uncertainty, less than 50 percent of respondents said they are "very confident" that information stored on the intranet is safe. Even IT employees in the survey were lukewarm about intranet security, with 41 percent saying they were only "somewhat confident" that it was secure.
When employees actively avoid using knowledge-sharing tools, look to Google for their own logos, and are unconvinced about the security of the intranet, it's time to look for a new path toward digital transformation.
A next-gen digital workplace platform is nothing like the cluttered, hard-to-navigate intranets of the past. With solutions like a Project Room, Governance Center, Management Hub and Brand Portal, it helps solve real business problems by connecting people to information, processes, and each other. It's no wonder that by 2020 the proportion of organizations deploying digital platform strategies will have more than doubled to over 60 percent.[4]
To get all the latest stats from Igloo's 2018 State of the Digital Workplace survey and learn more about how Igloo's digital workplace solutions can improve communication, collaboration, knowledge sharing, and employee engagement, check out the infographic below!
[INFOGRAPHIC] State of the Digital Workplace 2018
[1] https://www.idc.com/getdoc.jsp?containerId=US43154617
[2] https://www.gartner.com/smarterwithgartner/embrace-the-urgency-of-digital-transformation/
[3] https://www.mckinsey.com/industries/high-tech/our-insights/the-social-economy