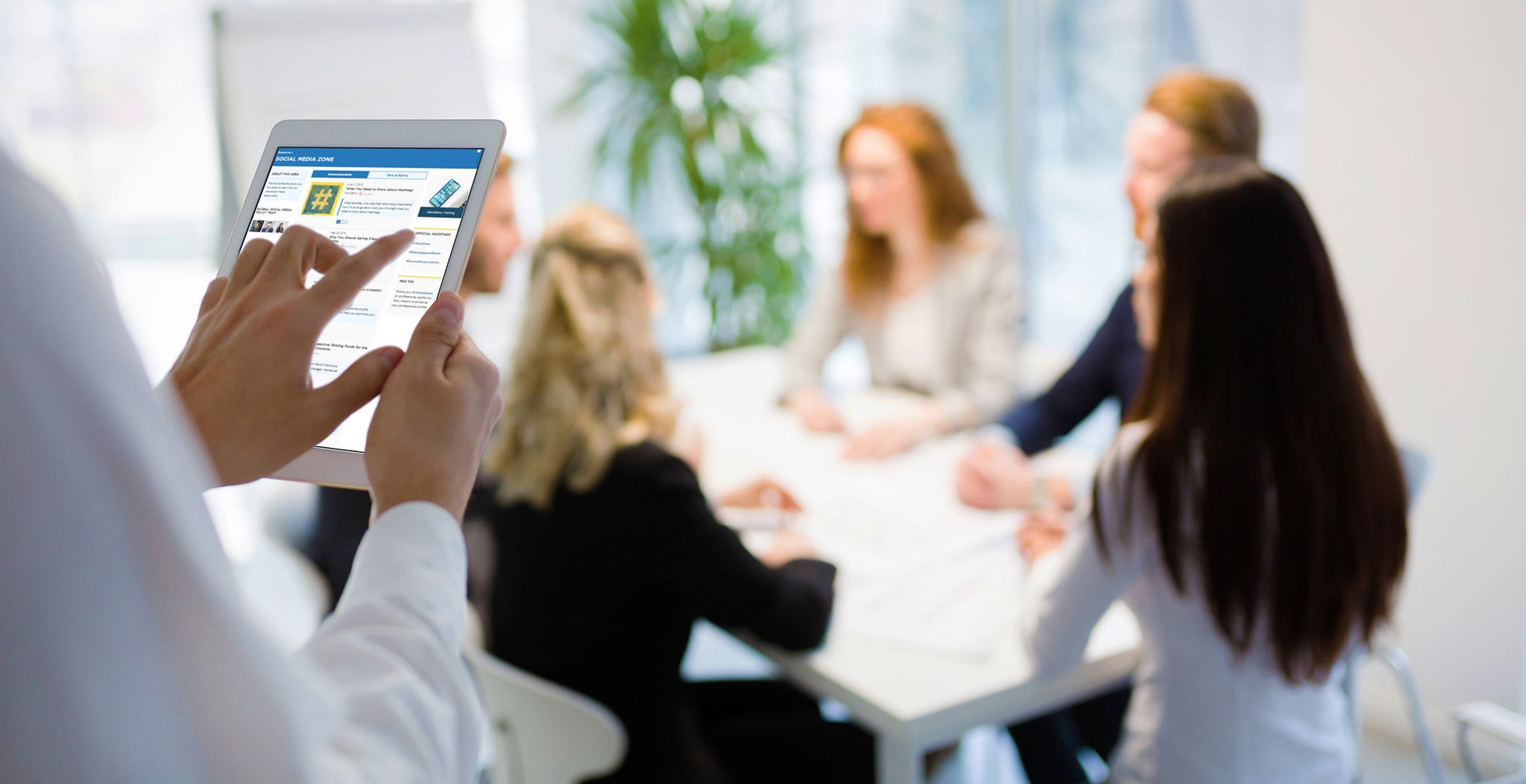 Speaking Our Language: How Igloo Software Helps Create a Unified, Global Culture at Gildan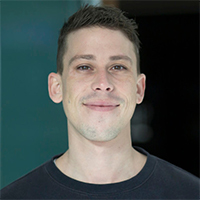 Lucas Sellyn
Business Analyst, Global Web & eCommerce, Gildan
At Gildan, we act like entrepreneurs. And what do entrepreneurs do? They create innovative solutions to challenges they face. This entrepreneurial spirit is at the heart of our company and it is reflected in our leadership's passion and our commitment to excellence. We are a people-oriented company, and everyone here has a "roll up your sleeves" mentality.
With over 50,000 employees, we are a global apparel manufacturer with our corporate head office in Montreal, Canada. We have major operations in North America, Central America and the Caribbean Basin so we operate equally in English, French, and Spanish.
A company of our size and geographic dispersion requires regular and clear communications to cultivate a sense of harmony—with each location playing its role, but also coming together as one organization.
One of our company goals was to consolidate our internal communications into a media-rich, self-service platform. We wanted one place for all global news, events, and documents, with a focus on relevancy. We thought if we could put a virtual megaphone to our company's successes, we could socialize our success and break down geographic and functional silos, a definite challenge for a dispersed company of our size, with multi-linguistic needs.
The Problem with the "Old" Intranet
When I started at Gildan, we had an ageing digital portal that was very basic. It was a total of three webpages and over time it had become a hodgepodge of links and files. Our company "Intranet" was disorganized, and most people were unaware that it even existed. It was supposed to be the central repository for our policies, but it was largely incomplete, poorly structured and accessed by few.
Likely driven by country-specific differences in policies, news, benefits packages, calendars, forms and procedures, the information was stored locally by different people, and was rarely centralized on the portal for all to access. It was difficult to get an idea of what was happening across the organization and sometimes, it felt like we were almost operating in four different silos instead of one big company working in harmony.
Issuing a communication in three languages via email was cumbersome and big news quickly became old news before we could share.
This was a huge problem because we needed an efficient way to send out corporate communications that would reach everyone, in their native language. Communicating company happenings via email wasn't a strong alternative: We'd have to provide the message in English, French, and Spanish (all in one text-based email). And, for most people, it would sink to the bottom of their inbox, where they'd forget about it and the message was lost.
If someone wanted to issue a communication, they would draft and format it (typically in English) in Microsoft Word, and then we would have to send it to a translation agency. We'd also have to reformat the article in French and Spanish when it returned. It was a cumbersome and long process during which big news became old news before everyone learned about it.
We needed a system and platform that would allow us to amplify team accomplishments and activities, such as our corporate social responsibility, health and training initiatives, as well as regional awards and recognitions. We do so much as a company and felt it was important to promote harmony between locations by keeping everyone informed.
It was definitely time to come together as one, unified company.
Finding the right solution to support our global footprint
I started hunting for a new digital workplace that covered all the basic requirements articulated by the corporate communications group, which was to effectively centralize all global news, events, resources, and policies – in three languages. It was no small feat.
We had requirements beyond that, but my feeling was that if we could just address those requirements first, then we'd have a great starting point for a robust digital workplace. I'd heard about Igloo Software and after developing a proof of concept with their free trial, I was confident it was tailored well to our basic requirements. With features like Active Directory synchronization, content access rules, and rich-media capabilities, Igloo looked like a good choice to centralize communications and harmonize our employee-facing information.
So, with Igloo chosen, I kicked off implementation as quickly as possible with the goal to bring our new digital workplace, GildanConnect, live within 4 months.
Introducing GildanConnect: A central hub with solutions to address multiple organizational needs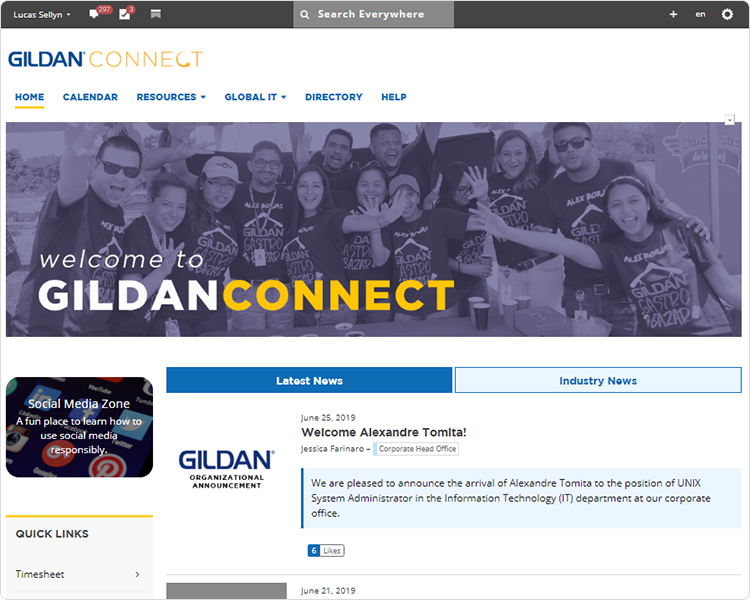 We started with a very tight website architecture, which included only a Home page, news page, calendar page, and resources. My focus for that first period was to organize content intuitively, and train people to keep it up to date. I knew that if the information on the site was accurate, employees would grow to rely on it and trust GildanConnect as a resource.
In the one year since we implemented Igloo, we launched a variety of solutions to address specific use cases. For example, we now have a brand portal, which is a place where employees can access approved brand assets, such as logos and document templates. We are seeing more and more adherence to brand standards across the board, because people know where to go.
People visit the brand portal every day, and it's become the authoritative brand asset resource hub.
We also have an open area called Recognition Now, where employees can recognize a contribution that their teammates have made. It's a way of giving public, positive feedback to somebody. Every three months, we reward one of those nominees.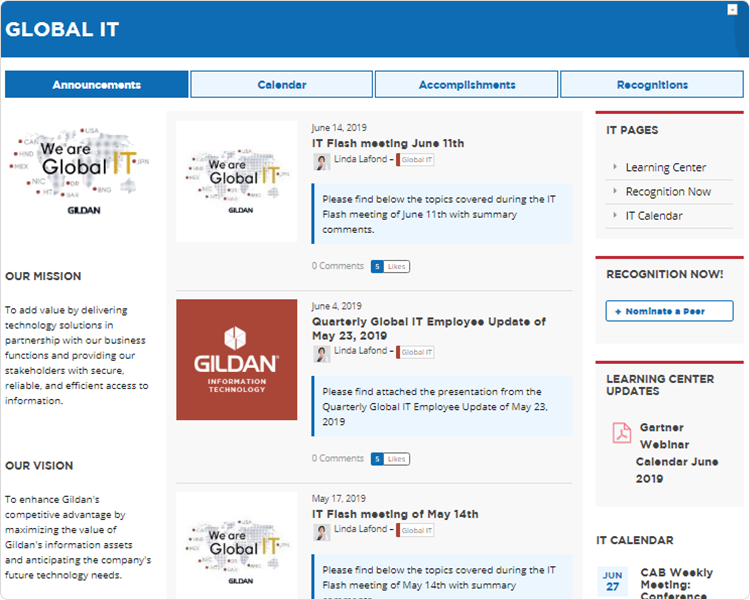 We also publish the IT calendar, which provides a holistic view for the organization of all the production changes that are going on, on any given day. It has been a huge benefit for the change management process. There are constant, ongoing IT updates happening across the organization and now everyone can view these in a consolidated, real-time schedule.
Two other solutions we launched are called the Ethics Center and the Professional Development Center. These revolve mainly around the learning initiatives that are lead by organizational development and compliance initiatives that are managed by legal.
When we launched GildanConnect, I showed the legal team how they could embed Brainshark, a digital training software, directly into a communication. They could also create banners on the top of the home page to promote these trainings.
There were a ton of benefits to integrating these trainings into GildanConnect. Because the training was embedded right within our announcement posts, employees didn't need to go to an external website, which was an unnecessary additional step. GildanConnect and Brainshark were both powered by single sign-on (SSO) so users didn't even need to enter another password to access the material.
By the end of the month, we had more than 3,000 people complete our first Igloo-enabled compliance training. Before Igloo, it took us six months to get 3,000 completes. It was our most successful training initiative ever.
Big Win: From Static Communications to Global Engagement
Since we operate equally in English, French, and Spanish, it was important that we had a system that was very strong at localization. Igloo's translation features have been helpful with this challenge and the workflow associated with issuing a communication is now much more efficient than before.
Using Igloo, the entire drafting and review process takes place collaboratively inside the platform. The translation feature allows us to then quickly format the article in other languages. Finally, a native speaker can proof the translated copy inside the platform, and our communications manager can push it live, either as herself or on someone's behalf.
It saves us days of work and allows us to present content to employees exclusively in their preferred language.
We now have dozens of contributors, including VPs and execs. I just love when I'm signing onto GildanConnect and I see a new post by someone that didn't require assistance. It's a good feeling because there was a lot of hand-holding in the first few months. It's been great to see the level of engagement and the number of contributors rise steadily over time.
One more positive impact of GildanConnect is that when we publish stories about our community work in locations like Honduras, it's a huge social event. People are tagging one another and congratulating peers for their contributions. Any videos and images that are associated with these events are directly embedded into the post itself and help us share the story. It's just wonderful. All these communications are done in English, French, and Spanish, as well.
The community engagement and intuitive access to content provided by GildanConnect is leading to greater global harmony and employee autonomy at Gildan. We're all realizing that we're part of one big family that is achieving great things every day. We do these amazing things on behalf of a company that we're all proud to be a part of, and we can all celebrate each other's achievements and see how those actions reflect on each other. We couldn't be prouder of what we achieve—and share—with each other.
Significant Strides Towards a Global Unified Culture
The change over this past year has been drastic. We recently conducted a poll where more than 94% of respondents said they felt more informed about what's going on with Gildan's global news and operations because of GildanConnect.
In Honduras, we can see just by the level of engagement that they really enjoy GildanConnect, which is especially heartening given that much of our corporate social responsibility and community engagement initiatives are focused there. We see a lot of celebration posts for those successes being socialized, which amplifies their impact on employee morale.
Our active users continue to steadily grow as people become more aware of GildanConnect and become accustomed to visiting it. It's not easy to cultivate harmony amongst such a dispersed workforce, but we're on our way.
94% of respondents said they felt more informed about what's going on with Gildan's global news and operations because of GildanConnect.
Thanks to Igloo, we've truly given our people a place to reliably find all the company news, events, policies, and more – in their language. And a place to socialize around work-related news and events. Gildan is now closer than ever to ensuring our entrepreneurial spirit speaks the languages of all our people, regardless of where they live and work. Just as we make apparel better one garment at a time, we're making our culture better, one post at a time.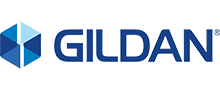 Gildan® has been offering quality casualwear since 1984. From a Canadian family business, we have grown to be one of the largest apparel manufacturers in the world. With over 51,000 employees worldwide, Gildan operates with a strong commitment to industry-leading labour and environmental practices throughout its supply chain in accordance with its comprehensive Genuine Responsibility™ program embedded in the Company's long-term business strategy.