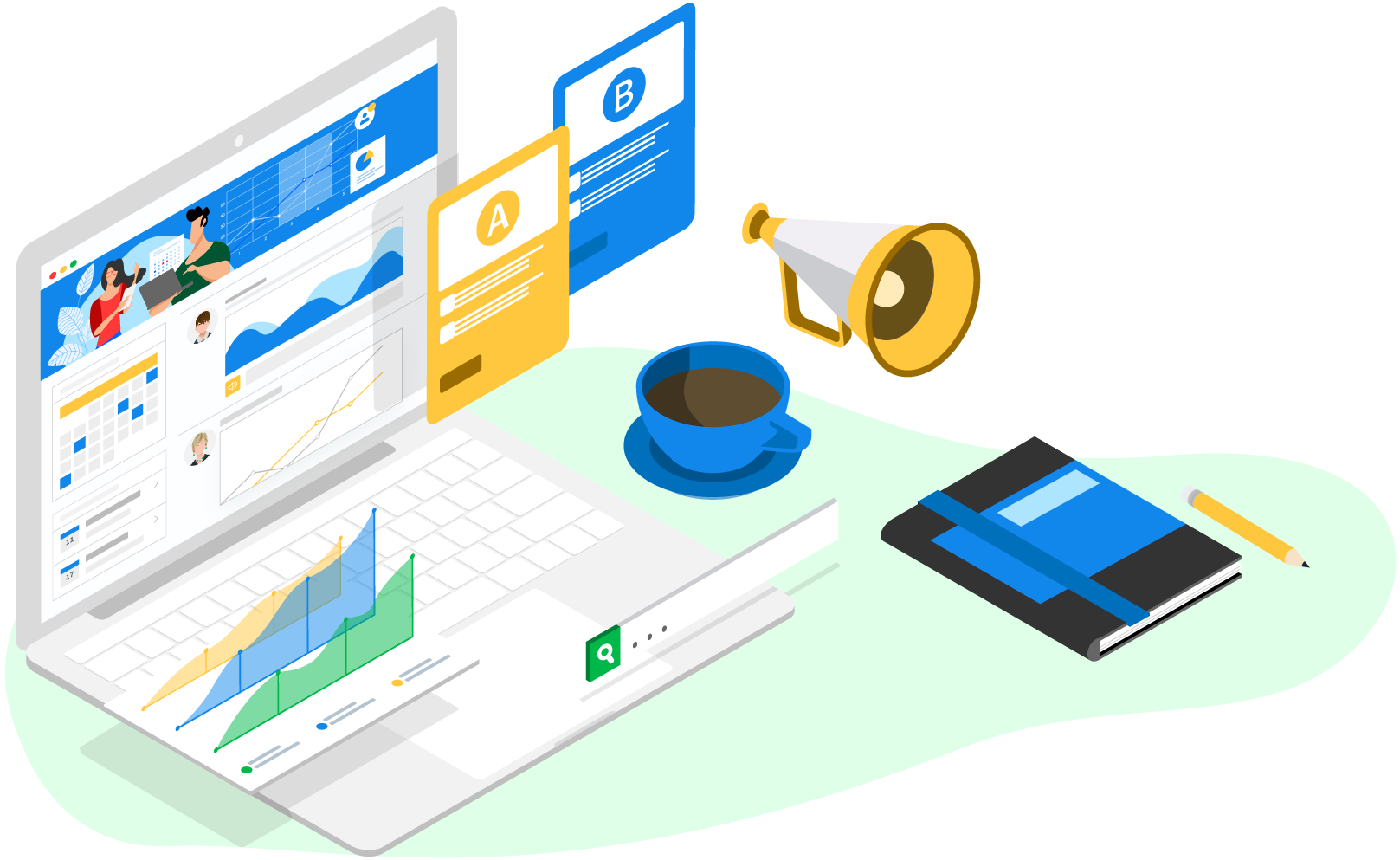 Create, communicate, and enable
Marketing is a team sport — and often, key players come from other departments. So, how do you keep everyone rallied around the same goal? Provide a single destination with tools that make it easy for the whole team to communicate, collaborate, and access resources.
Bring people, resources, and tools together to achieve your goals
Enable customer-facing teams
Create a single source of truth where customer-facing teams can easily access the latest marketing materials — and know how and when to use them.
Improve campaign effectiveness
Flawlessly execute campaigns and enable faster decision-making by keeping critical campaign information like plans, assets, and results in one place.
Align sales and marketing
Build a bridge between sales and marketing teams with dedicated areas for online collaboration and knowledge management.
Drive brand adoption
Share the latest brand updates and creative assets so everyone is consistent in their internal and external communications.
Keep the organization informed
Deliver updates to the entire organization so they can stay informed on the latest campaigns, programs, news, events, and more.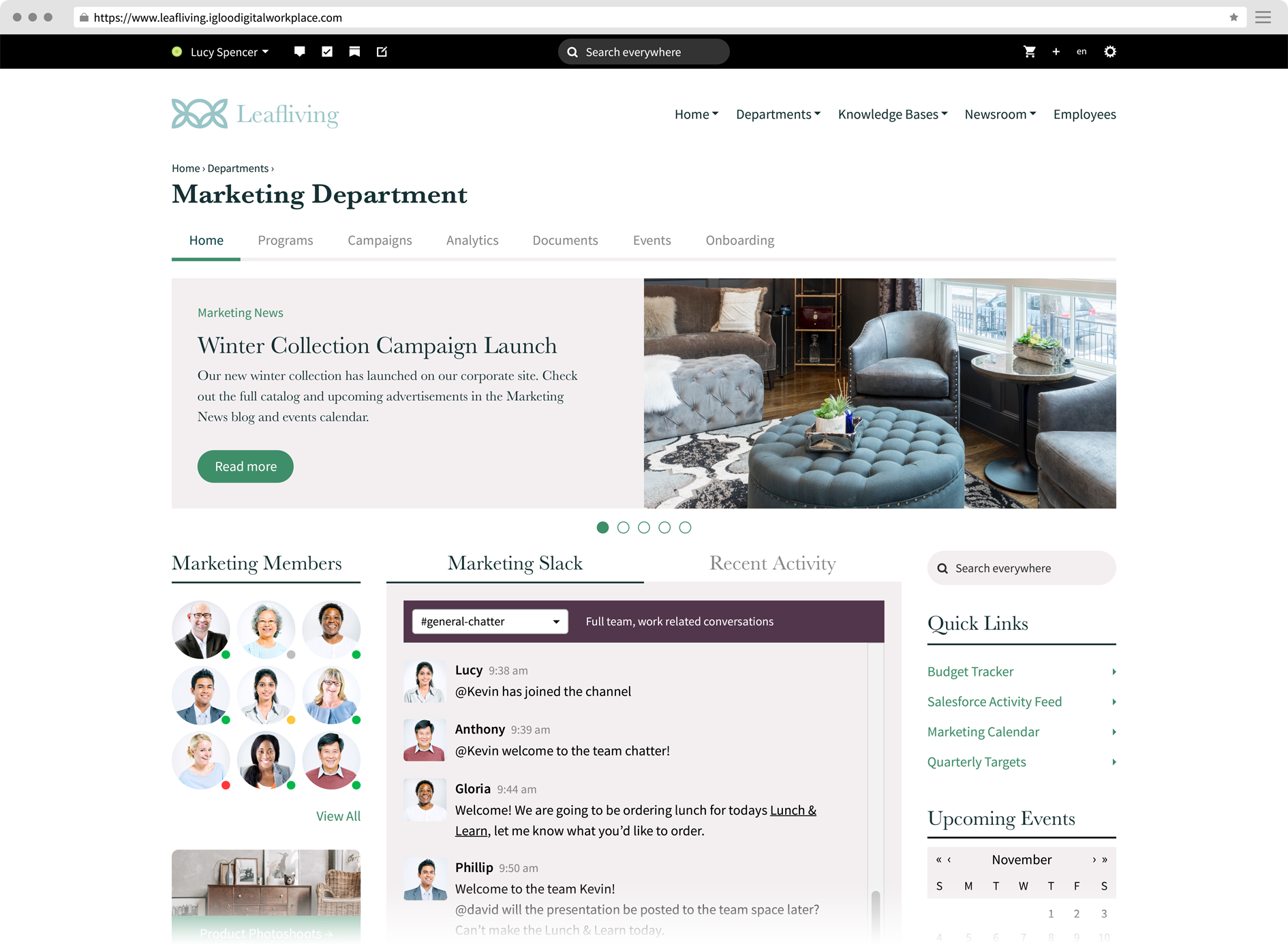 SOLUTIONS
Optimize your efforts with pre-built digital workplace solutions
Choose from our portfolio of purpose-built, customer-tested solutions for marketing.
Marketing Knowledge Base
Centralize all your messaging, collateral, videos, and campaign information so it's easy for employees and stakeholders to get informed, and help spread the word.
Project Room
Collaborate on marketing projects – from start to finish. Keep everyone aligned by tracking deadlines, assigning tasks, storing files, and sharing updates all in one place.
Request Center
Give stakeholders a place to submit all types of marketing requests. From assets to advice, requests are routed to the right person, quickly, and easily.
Brand Knowledge Base
Create an easy-to-use, self-serve repository. Store and share brand guidelines, logos, fonts, photography, and more.
Team Room
Provide a dedicated space for team communications and knowledge sharing on topics such as goal planning, industry best practices, program results, and more.
Newsroom
Curate and deliver marketing news to all employees with user-friendly content publishing and social collaboration tools.
Platform capabilities
Igloo solutions are built on our cloud-hosted, SaaS platform with advanced capabilities you can count on.
Integration-ready
Igloo solutions can integrate with the most popular third-party applications, so you can maximize your existing investments and give employees a seamless work experience.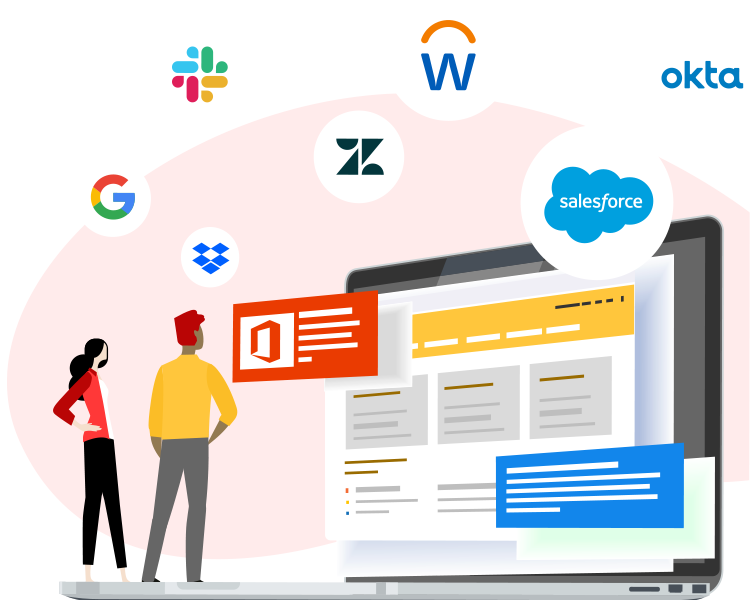 User-friendly features
An intuitive drag-and-drop interface and familiar features like blogs, calendars, forums and wikis, make Igloo solutions easy for anyone to use.

Reliable search
With Igloo's unified search, users can quickly find, surface, and access files from various repositories into a single search interface.

Powerful analytics
Get access to actionable data about user engagement and content performance so you can make improvements as you go.