ISG Provider Lens™ names Igloo a Leader in Employee Engagement and Productivity
ISG Provider Lens™ Future of Work – Services and Solutions Quadrant Report analyzed the relevant solution vendors in the global market based on a multi-phased research and analysis process and positioned these providers based on the ISG Research methodology.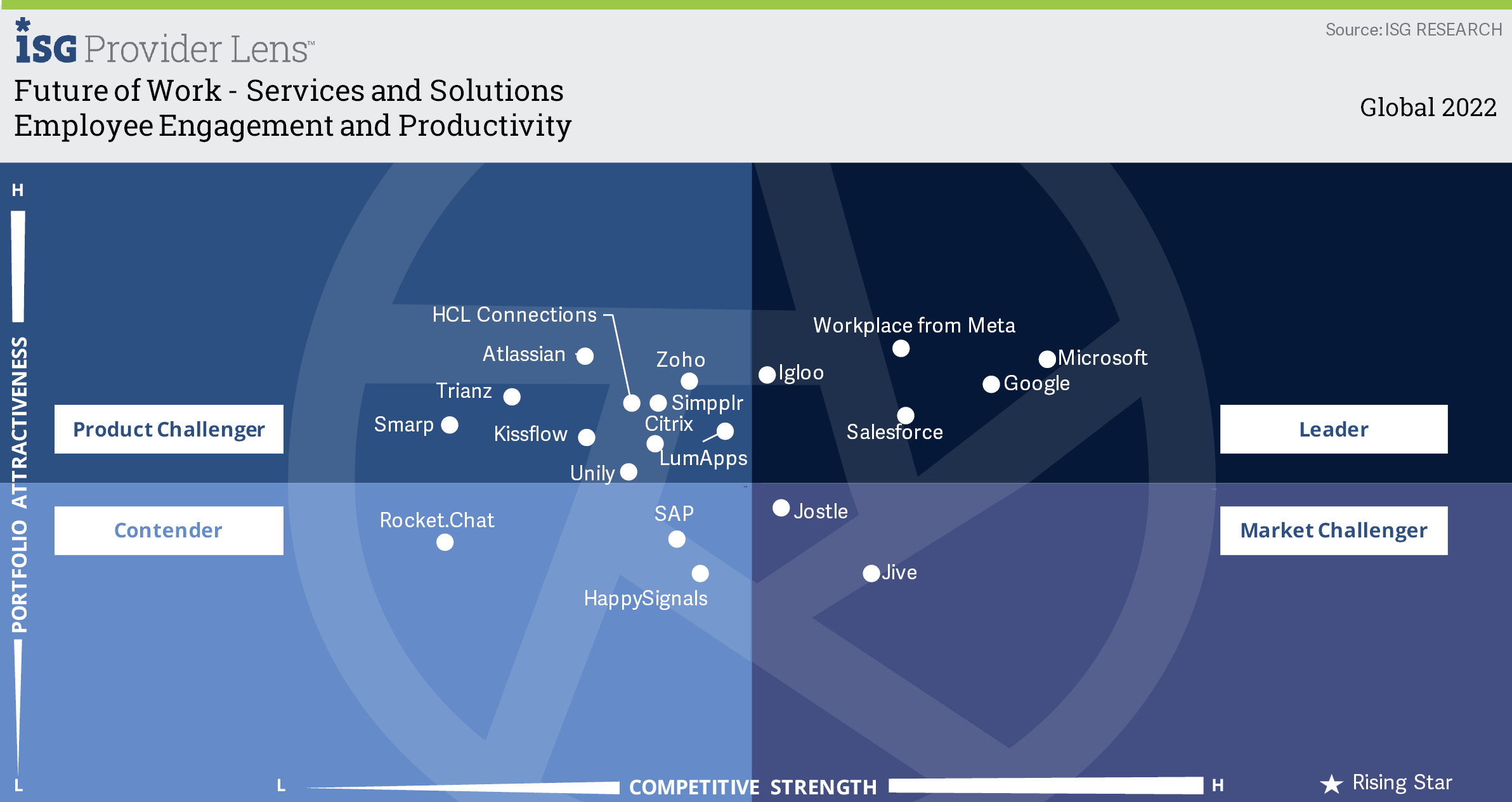 The Employee Engagement and Productivity quadrant evaluated the following areas:
How to improve employees' engagement with their organizations

How to enhance productivity

Driving digital dexterity

Assisting with modern project, task and workflow management
Igloo was recognized for the following strengths:
Comprehensive solutions

 

Integration with key enterprise applications

 

High client retention and renewal rates

 
Get your copy of the report!
Igloo

"capitalizes on its strong capabilities in employee engagement and the multiple use cases its solution can handle to retain its existing clients and grow further.

"
Mrinal Rai: Future of Work – Services and Solutions Quadrant Report, October 2022
Some key facts about the ISG Provider Lens™ Quadrant report
Who is ISG?
ISG (Information Services Group) is a leading, trusted, and publicly traded analyst firm that has more than global 800 clients, including more than 75 of the world's top 100 enterprises.
What is the ISG Provider Lens™?
The ISG Provider Lens™ Quadrant reports provide valuable insights to enterprise buyers on the strengths, competitive differentiators and unique selling points of leading service providers serving each market.
How were vendors evaluated?
ISG has rigorous review standards and looks at overall portfolio attractiveness such as scope of portfolio, the quality, strategy and vision and more. In addition, ISG looks at competitive strength such as brand reputation, market position, go-to-market and core competencies.
Why is this report important now?
With the rise in remote work, challenges with employee engagement, and ineffective spending on single purpose apps and tools, intranet technology has become mission-critical in the race to improve how organizations communicate, share knowledge, and engage employees.
Trusted by the world's leading businesses
Meet Igloo
Together with our customers, Igloo builds exceptional digital workspaces where everything an employee needs is right at their fingertips. Watch our short video to learn more.
Discover why Igloo is ranked a leader among employee engagement and productivity platform providers