Igloo Software Wins 2023 'Waterloo Area's Top Employers' Award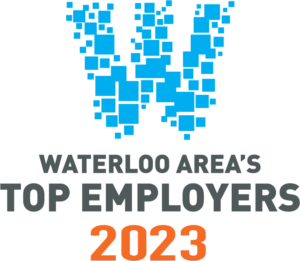 This special designation recognizes the employers in the Kitchener-Waterloo area that led their industries in offering exceptional places to work
Kitchener-Waterloo, ON — December 15, 2022 — Igloo Software, the leading provider of digital workspace solutions, is one of the 2023 Waterloo Area's Top Employers, announced by the Toronto-based publisher, Mediacorp Canada Inc., that also serve as the organizers of Canada's Top 100 Employers competition. This distinguished honor showcases Igloo's People and Culture (P&C) team's commitment to support their "People First" corporate objective that serves to establish and implement programs that support all employees through a collaborative and transparent work environment.
"Putting Igloo's people first is core to our mission and success. By listening to our teams through employee engagement surveys, we take the actionable feedback and implement meaningful programs and benefits such as the RSP match, the creation of our EDI program and our distributed workforce policy. We work hard to set our team members up for success both professionally and personally," shared Kristen Ruttgaizer, chief people officer, Igloo Software. "Thank you to Waterloo Area's Top Employers and to the editors at Mediacorp for recognizing Igloo's ongoing achievements."
Now in its 16th year, Waterloo Area's Top Employers recognizes the employers in the Kitchener-Waterloo area that led their industries in offering exceptional places to work. Editors at Mediacorp review employers on workplace criteria, such as work atmosphere; health, financial and family benefits; vacation and time off; employee communications; performance management; training and skills development; community involvement; and more. Editors were impressed by Igloo's efforts to encourage team members to save for the future with matching employer contributions to an RSP plan. The company's distributed workforce policy, which gives employees the option to choose how frequently they work in office or if they would like to be remote-first, also provides flexible work hours, telecommuting options, and reduced summer hours.
Igloo's employee recognition efforts also stood out to the editors. The company's Northern Lights Award acknowledges the achievements of three nominated employees each quarter. Winners are selected based on how their achievements relate back to the company's corporate pillars, and award winners receive a $1,000 bonus.
"As people start to return to the workplace, this year's winners have made it clear that their employees deserve both the time and space to focus on their families, their health, and their education," says Kristina Leung, Managing Editor at Mediacorp. "Organizations are doubling down on their commitment to flexibility, such as flexible working hours or a health plan that allows employees to tailor coverage to suit their needs."
For more than two decades, Mediacorp Canada Inc., has managed the Canada's Top 100 Employers project, which includes 18 regional and special-interest editorial competitions that reach millions of Canadians annually through a variety of magazine and newspaper partners. Mediacorp also operates Eluta.ca, one of Canada's largest job search engines, which reaches over two million jobseekers annually and features exclusive editorial reviews from the Canada's Top 100 Employers project. The full list of Waterloo Area's Top Employers for 2023 can be found in the special magazine published in the Waterloo Region Record. Detailed reasons for selection with additional stories and photos can also be viewed on the competition homepage.
About Igloo Software
Igloo is a pioneer of the digital workplace technology that has become the foundation of successful companies in every industry by uniting workforces through improved communication, collaboration, and culture. By continuously evolving according to emerging trends in the world of work, Igloo's cloud-based platform leads the way as a digital office space your employees can rely on to enhance their productivity and improve their connection to your company, whether they're working from offices, frontlines, mobile devices, or homes. The depth of the Igloo platform and the expertise of Igloo's customer-focused teams shape your central destination that integrates with all your favorite tools to enable a happier, more engaged workforce. For more information, please visit www.igloosoftware.com. Follow Igloo Software on Twitter, Facebook, LinkedIn, and Instagram.
Press Contacts
Erin O'Brien
SVM PR
[email protected]
1-401-490-9700