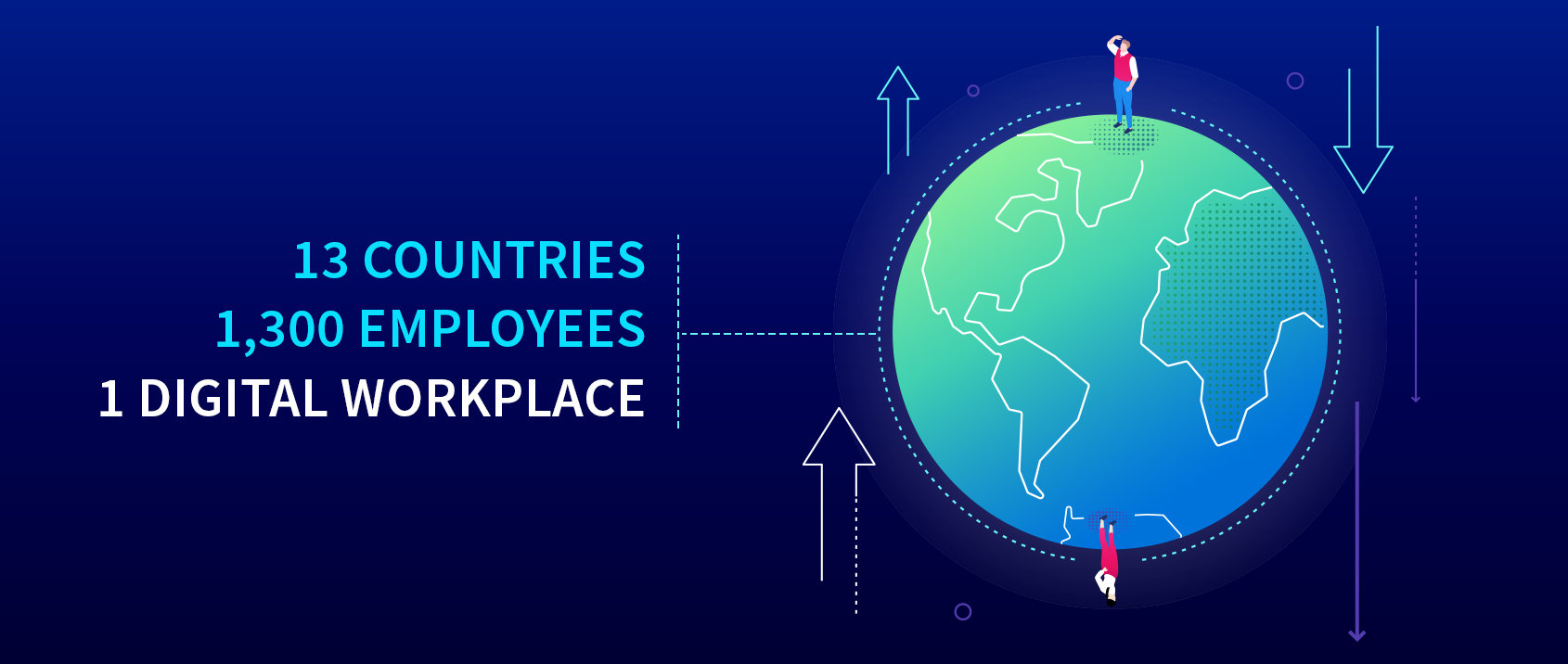 When companies use multiple isolated tools to store and share knowledge, it becomes difficult for employees to know where to find crucial information and which messages to prioritize. This challenge is compounded for remote workers scattered worldwide.
Anaplan, a software company that connects communities with their data to enhance decision-making, has 21 offices in 13 countries and more than 1,300 employees. The largest group of employees works in their headquarters in San Francisco, while the second largest group of employees works remotely.
Accelerated growth and a dispersed global workforce resulted in several challenges for their staff. Their goal was to find a platform that would ensure all employees, no matter where they work, could be more effectively informed on the company's goals while providing a single source of truth for important company resources.
Key Digital Workplace Results Achieved to Date
8 digital workplace solutions deployed to address critical business challenges
90% of employees log in monthly
60% of employees log in weekly
Over 60 "Barn Keepers" trained to manage their department's presence
Established a single source of truth for company news and resources
Challenges faced by dispersed organizations
Organizations like Anaplan with large workforces spread across home-based and corporate offices often confront a variety of business challenges, including:
Multiple, disconnected communication tools
Anaplan relied on email, Slack, and a monthly newsletter to keep its 1,000-plus employees informed. Yet more communication tools didn't result in better communication, only noise and message fatigue. Employees couldn't figure out which messages were important, and which were extraneous to their work.
Fragmented information
When it came to finding information to get work done, Anaplan employees were frustrated. There was no central place for up-to-date company resources. Instead, IT policies were in one location, HR in another, and so on.
It's a common complaint among information workers, with statistics showing that 43 per cent of respondents have avoided sharing a document because it was too hard to find.
Alienated remote workers
For organizations, the benefits of remote workforces include enhanced recruitment and retention, better employee experience, and cost savings.
According to GlobalWorkplaceAnalytics.com, 40 per cent more U.S. employers offer flexible work options than they did five years ago, with larger companies being most likely to provide this opportunity.  But there's a downside to capitalizing on this trend.
Nearly 70 per cent of employees who work remotely report said they encounter challenges they would not find in the office, according to a recent survey. At Anaplan, remote employees didn't always feel included or caught up on the latest company intel.
Weak alignment around company vision
When your company strategy is trapped in a document visible only to the executive team, how can the broader workforce see how and where they fit in, and rally around common goals?
According to research in the Harvard Business Review, superior strategic alignment happens by design or not at all. Employees need quick and easy access to company objectives as they evolve.
6 ways a digital workplace platform connects dispersed organizations
After Anaplan chose to partner with Igloo, their digital workplace platform was put to work to solve both communication and engagement challenges for their various office and employee groups across the organization.
Their digital destination was named "The Barn" because the company was started in a barn in York, England.
Starting with a well-planned launch guided by Igloo, Anaplan created a flourishing hub for information and resources that align the company's goals. They used six key strategies for bringing people, information, and processes together in a successful digital workplace.
1. Integrate with preferred tools
Put the apps your employees know and love right in your digital workplace. You can still manage permissions and single sign-on, and employees can centralize their files, conversations, and contacts. The Barn surfaces all the office Slack channels and integrates with Box.
2. Centralize key resources
From day one, The Barn had a robust resource and tool section that included an IT Help Desk, Onboarding Hub, Brand Portal, Employee Development, and Holiday Calendar. Not surprisingly, the most visited page was the Holiday Calendar – an invaluable time-saver in a global enterprise.
Now it's easy for employees to stay current. All they have to do is follow "The Latest," an area of The Barn that consolidates the company's social media channels and internal news blog.
3. Surface company vision and culture
Anaplan's culture and communications team led the creation of the new digital workplace, so the company vision and strategy are front and centre in The Barn. The "Inside Anaplan" area also features executive bios, which help employees get to know their leaders and build trust.
With the old, stagnant monthly newsletter gone, The Barn showcases company events and accomplishments. It's all about building culture across a rapidly expanding, dispersed company.
4. Highlight leadership support
Anaplan's leaders have always demonstrated strong buy-in to the new digital workplace. They reference content in The Barn in their communications and make it clear that it's the single source for truth. In short, they lead by example to drive engagement.
5. Give offices a space of their own
In a company with over 20 offices, it was inevitable that everyone would want a piece of the thriving digital workplace. An area called "Locations" provides every office with their own space, where they offer international colleagues a glimpse of their unique culture and achievements.
To ensure good governance, Anaplan created a handbook for managers of each office location that leverages Igloo's knowledge base.
The results
With 60 per cent of employees logging in to The Barn at least weekly, Anaplan's digital workplace is an unqualified success.
Before partnering with Igloo, corporate messages arrived via several unconnected channels, business-critical information was hard to find, and remote workers often felt out of the loop. Today, Anaplan's digital workplace is a one-stop-shop for internal communications and resources. It's also the foundation for their culture.
Since partnering with Igloo, the company has seen a significant productivity boost: less time searching means more time working. Employee feedback on the digital workplace is consistently positive, and a growing number of users are becoming content creators.
The next phase of Anaplan's digital journey — fostering collaboration across departments — has already begun, with Igloo continuing to support them every step of the way.
Read the full story of how Anaplan worked with Igloo to build and launch their online destination.