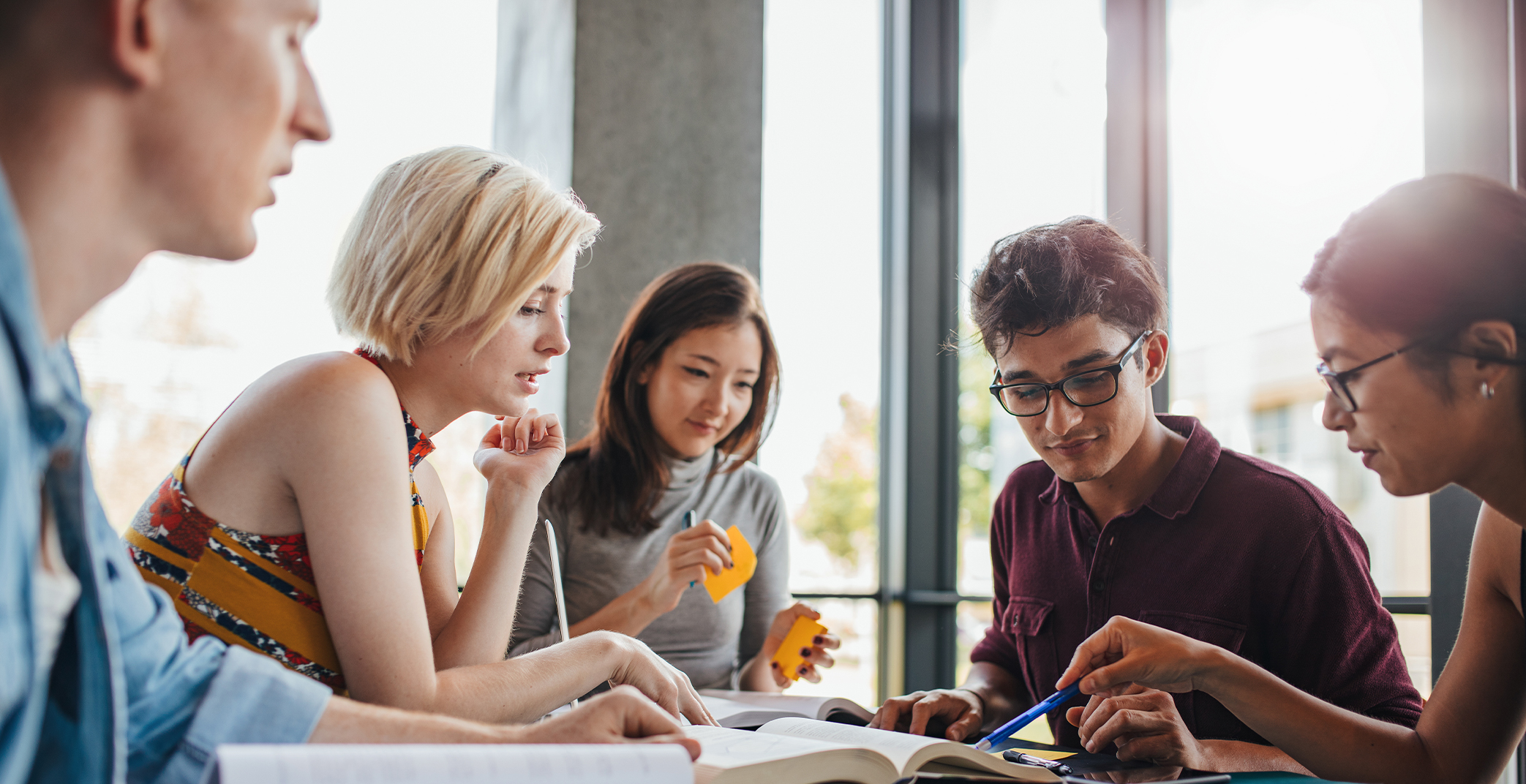 Evolution of a Digital Workspace: How Shorelight's Digital Hub Sparks Engagement, Communication, and Collaboration
Education is a beacon of light for people all around the world. Connecting the right person to the right educational program can truly change their life. At Shorelight, we partner with outstanding universities in the United States to provide opportunities for international students to pursue higher education and earn an undergraduate or graduate degree.
The Shorelight team includes people in a variety of roles across the globe that help students come to discover, explore, and pursue opportunities to study at and achieve a degree from top-ranked universities in the United States. We also have people on the ground at each of our university partnerships to ensure our students are well acclimated to the English language as well as U.S. culture. Together with our university partners, our goal is to help educate the world.
Priority 1: Connecting Our People
To achieve such a lofty goal, we need to work as a cohesive, collaborative, communicative team. Since our company was founded in 2012, we have scaled quickly. We now have close to 650 employees in 25 locations and 12 time zones across the globe, each with unique challenges, cultures, perspectives, and insights.
Our global presence and growth pose some unique challenges. For example, an employee in Boston may have different information than a person on one of our campuses, which may be different still from an employee who is recruiting students in China. On the growth side, we are continuously developing and launching new products and initiatives. Alignment around the goals and initiatives is paramount to hit the ground running.
That is one of the main reasons driving the "why" behind our desire to find a solution that connects our organization. We wanted to allow our employees to remain connected, in their time zones, when they are ready and able to communicate and learn.
 We had been using Igloo extensively as a knowledge base, but we learned that we could also connect our company in ways we had not initially thought of.
It was also critical that all our employees were connected to our students' stories. At Shorelight we put students first, and when we do not share in their successes, we miss those valuable opportunities to connect to the larger community.
The best part – we already had the solution to our problem. We had been using Igloo as a knowledge base for our vast array of university enrollment and program details, but we were not leveraging its more robust capabilities. It was when the team went to Igloo's ICE customer conference and saw Igloo's Leadership Center for the first time; lightbulbs went on.
We all looked at each other and said, "We need something like this." This sparked our journey to evolve our Igloo instance into more than just a knowledge base. We needed to scale this to all employees quickly. It was clear Igloo could connect our company in ways we had not initially thought of.
The Natural Evolution of Digital Workspace Adoption
At Shorelight, we started with a distributed approach to technology, where each department has always chosen its own high-quality resources. Our expansion with Igloo was driven by the already strong usage and adoption at Shorelight from the various teams using it.
For example, the admissions and recruitment teams built their own mini knowledge bases that house all the quick links to the information and resources they need regularly. They even started writing their own blogs as part of knowledge sharing. It was still a very internal siloed initiative, but it was making their lives much more efficient because they all had their own sources of truth.
They loved what their knowledge bases enabled them to do, and inevitably, word spread quickly from team to team, department to department, and more people started building their own department hubs. Everyone wanted their own space and the initiative continued evolving.
Some teams use their hubs as a showcase piece to show the company what they are up to, while others use theirs to communicate internally within their team. Some departments still primarily use theirs as a source of truth.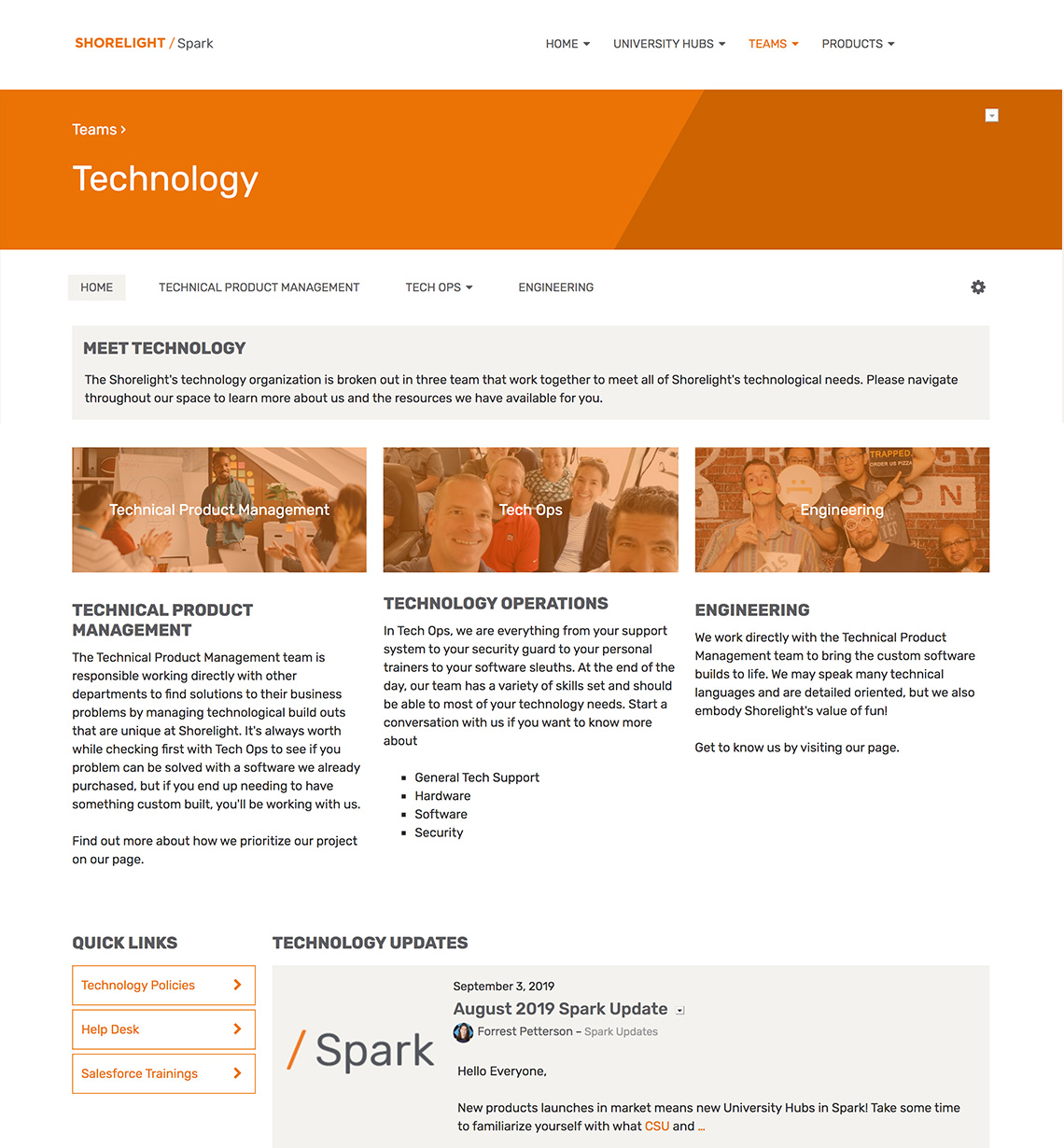 We had made our digital workspace more effective for departments across the company, but it was time to bring everyone together.
Our expansion with Igloo was driven by the already strong usage and adoption at Shorelight from the various teams using it.
Spark: A Central Hub to Enable a Connected and Collaborative Workforce
The next evolution was all about delivering on our goal of providing a single, company-wide space where people could start their day and stay connected. We knew this initiative would require commitment and engagement from the top-down as well as bottom-up adoption. After one data driven presentation, we had the buy in of our executives to move forward with the project.
By creating this space, we were effectively announcing to our employees that we were going to support them in staying connected. This is shared responsibility.  They would be a critical component to keep the company connected by authoring new posts and resources, linking out, and publishing new, relevant material.
We call our company-wide digital workspace Spark.
We want to encourage and "spark" the sharing of ideas. Our inspiration to evolve the site started with Igloo's Leadership Center, but then we took it further.  The Leadership Center provided us with the research behind what types of widgets work best for engaging and connecting multiple audience types. And with our leadership regularly commenting on content, it reinforced their commitment that this site was important to the organization.
We encourage all our team members equally to share content through the multiple channels we have built out for them on the site. Our company culture values all inputs.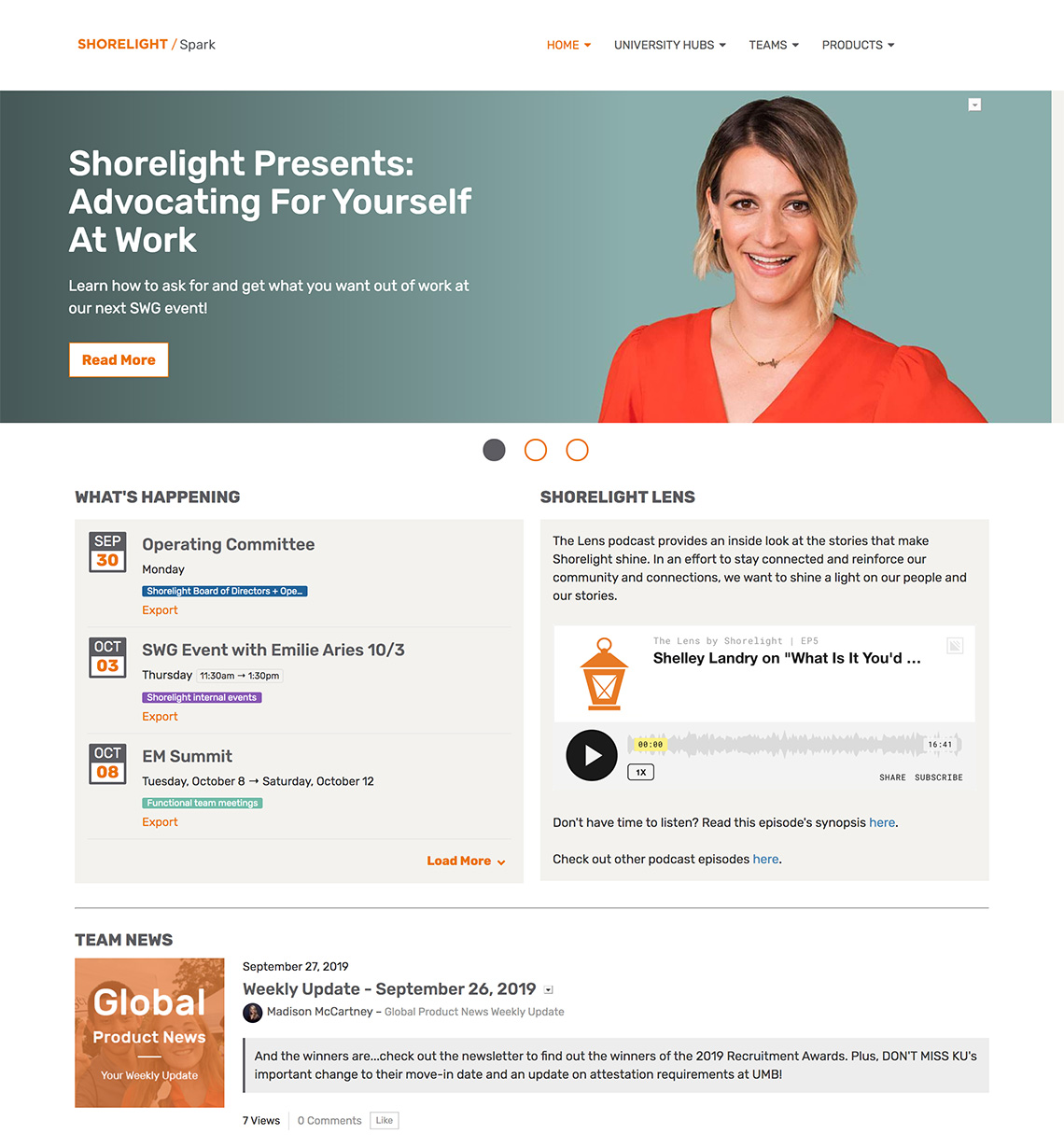 We now have a consolidated calendar of regional, international, and company-wide events. This includes holidays, campus events, board meetings, steering committee meetings with our different university partners, and more.
It seems simplistic, but a unified calendar helps people to understand the various business cycles across the organization. Giving people insight into other teams' priorities also allows them to offer their skills to fill gaps, so it is also promoting mobility within the company. It is a game changer for our global understanding of the current activities at Shorelight as well as our continued growth.
We also created a page to celebrate who we are as individuals and teams. Sharing stories through employee blogs and a rewards and recognition tool. In Spark, colleagues can view awards given to each other for going above and beyond their job descriptions to help another team member or an initiative.
We have taken a big step forward in the way we communicate and collaborate thanks to Spark.
Spark also helps us come to the table prepared. For example, our new senior VP of HR is visiting all the campuses and regions. There is now information and a podcast that people will read and listen to before she arrives. This will inform our people of her story and give then time to prepare thoughtful questions. The discussions will be richer and deeper as a result.
This will ultimately help our people connect, collaborate, and communicate more effectively and regularly, which is a by-product of what we are doing with Spark. We had limited ways of coming together before we started using Igloo, so this is a big step forward.
All these company-wide, highly visible initiatives have helped shape perspective for the company and instill more empathy and thoughtfulness in our people. Company information becomes more digestible, searchable, and specific.
Let the Sparks Fly: Our Rollout Process Is Spreading Like Wildfire
Within a few short weeks of implementing and launching Spark, we are already seeing the excitement come to life through our employee engagement. Our people are coming to me with new ideas. I have received an influx of requests to build new things and questions about how to go about accomplishing new projects or goals using Spark.
We have had 82% of our users log into Spark in the first three weeks after launching. That is up from our average of 62%.
Our HQ team is in the process of rolling out Spark with plans that include formal training for the teams across the globe. Our goal is to have Spark feel like a highly personal connection during the launch. We did not want to just tell people, "Okay, this is launched." There was no way that approach would drive excitement.
To ensure ongoing success, we have also created an editorial board that includes a diverse group of employees that curate content weekly to highlight what matters to our people. The content must be timely and relevant. We are encouraging our authors to keep publishing high-quality and purposeful content. Everything from student journeys to employee success celebrations. The variety of content is critical to draw people in and drive adoption of Spark.
Engagement is high and people are thinking critically about how they can maximize their contributions to our platform. They are seeking to self-educate and educate their peers. Spark is shining a light into the future of our company and truly helping us to align around our goals as we continue to grow as an organization.

Shorelight is reinventing the international education experience for students worldwide. Based in Boston, the company partners with top-ranked, nonprofit American universities to build innovative programs and high-touch, technology-driven services that help talented students thrive and become global citizens.