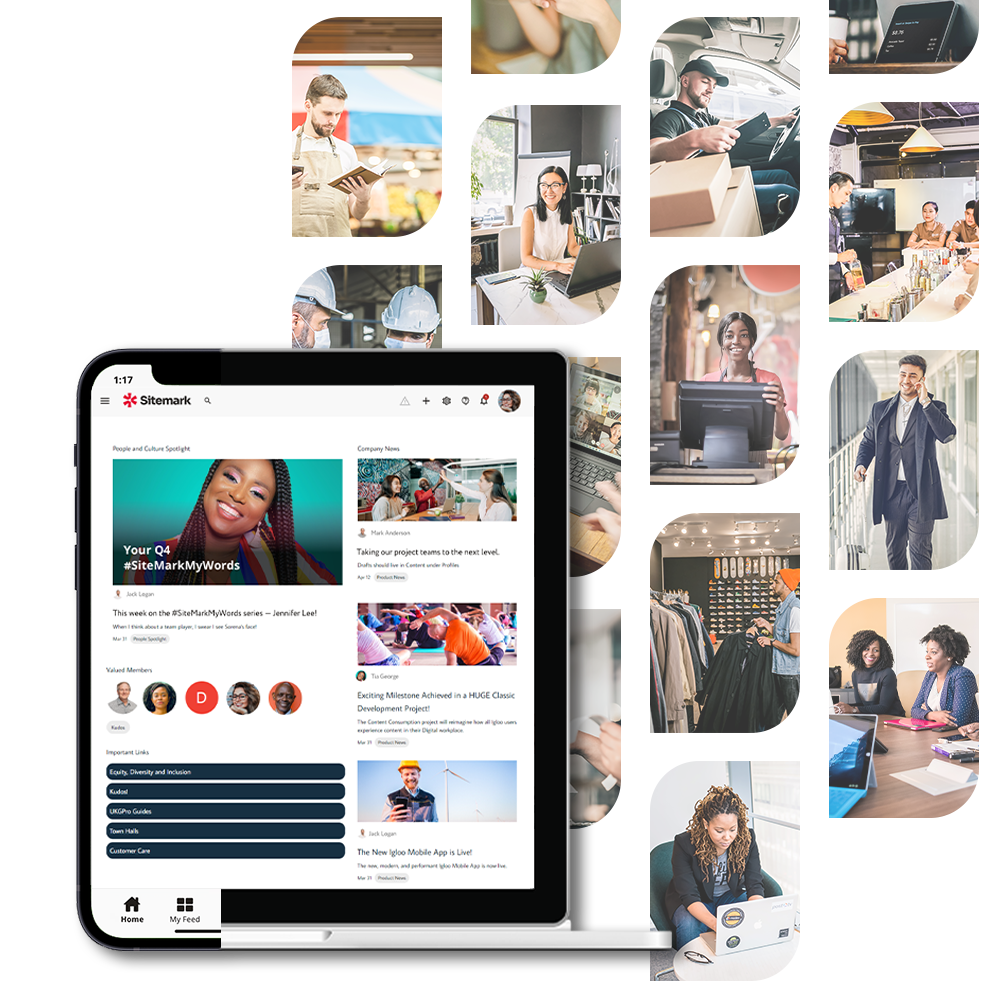 Powered by Artificial Intelligence (AI) and Machine Learning (ML) Capabilities, Igloo Flex is a Sophisticated and Modern Intranet Platform that Bridges Workforces, Engages Frontline Workers, and Improves the Digital Employee Experience (DEX) Organization Wide. 
Kitchener-Waterloo, ON — September 27, 2023 — Igloo Software, the leading provider of digital workplace solutions, is pleased to announce the rollout of Igloo Flex, an enterprise-grade intranet platform that is scalable to meet the diverse needs of desked and deskless – or frontline – employees by enabling highly personalized experiences and equitable access to digital workplace resources. With more than two billion global workers in frontline roles, Igloo has architected the Igloo Flex intranet platform to unify the DEX across any work setting. The Igloo Flex platform introduces a single set of tools that utilize AI and ML integrations for creating highly dynamic, tailored, and adaptive desktop and mobile experiences for users, enabling them to streamline processes, transform search into knowledge discovery, and stay connected to everything they need, including the most critical information in their organization. 
"Frontline and desked workers may work for the same employer, but their lives at work are not the same. Unification is not about providing the same experience to everyone. It's about delivering the right experience to the right person in the right way. Igloo Flex delivers the right experience, tools, and information to both desked and deskless employees and gives users what they need to be successful," said Mike Gaburo, CEO of Igloo Software. "Our customers don't want to force-fit a DEX tool built for desked workers on their frontline employees. They also don't want to buy and operate two separate platforms. Igloo Flex reflects our pragmatic approach to DEX and allows our customers to get more out of their investment in workplace technology by delivering purpose-built frontline and desked employee communication, collaboration and knowledge management tools in a single platform."  
The disparity between desked and frontline employee digital tools has driven Igloo to find a new approach to meet their unique needs. Research has shown that 80% of the global workforce does not sit behind a desk to do their jobs, and that 70% of deskless workers believe that more technology would help them do their jobs better. "Our frontline staff is not necessarily in front of a computer 24/7. Instead, they are out on service requests, helping fix and install things to improve and maintain the properties.  They all have access to the internet so if they could access anything they need outside the office it would be really nice. The frontline worker role is different, and the goal is to engage those employees more and make it simple for them.", said Jillian Raddie, CX Project Manager, at Sequoia Equities. 
Igloo Flex has arrived to spearhead a new and unified era for intranet technology, and — unlike other solutions that treat frontline and desked workers virtually the same — Igloo understands the way to achieve workforce unification and frictionless experiences is to provide a DEX that is united at its core but tailored to a diverse set of industries and users. That is why Igloo Flex offers mobile and web experiences optimized for the way employees actually work: 
User Interface

​: A modern design with configurable themes, navigation, and global and custom page templates for an improved employee experience on a desktop, tablet, and/or mobile device.

 

Personalization

​: A productivity dashboard, intelligent indexing for better content discoverability, and insights on trending content powered by Igloo's recommendation engine.

 

​

Analytics​:

Track employee journeys and feature usage of users​, built-in sentiment analysis​, and user guidance and company onboarding​.

 

AI and ML​:

Advanced data models and AI to automate accurate employee content recommendations and insights. An ML-powered recommendation engine presents personalized content to employees, mines workplace data and materials such as handbooks and guidelines to automate employee queries, and surfaces the most relevant information on demand.

 

Dynamic Content

​: More tools and flexibility to create and deliver engaging material that connects to different audience segments. 

 
Integrations​:

Igloo's Digital Assistant provides a single and intuitive experience by integrating an organization's systems and tools to surface information, alerts, and tasks, giving employees instant access to what needs their attention so they can be more productive, focused, and efficient.

 
Igloo recognizes that a one-size-fits all approach for employees is outdated and will continue to innovate on its award-winning Igloo intranet platform, while also continually enhancing Igloo Flex for frontline-focused organizations. Igloo has become an integral part of the workday for over a million users in more than 19 countries, and is committed to investing in its original intranet platform as it remains a powerful and modern digital workplace option for companies such as Leidos, CIGNA, Hard Rock Hotels & Casinos, Gildan, and more. Igloo has inspired more than 10,000 digital destinations that create impactful digital employee experiences by ensuring communication, knowledge sharing, collaboration, and culture are accessible to all. 
About Igloo Software 
Igloo Software is the leading provider of digital workplace solutions, helping companies move beyond traditional intranets to inspiring digital destinations that improve communication, knowledge sharing, collaboration, and culture. All Igloo Software solutions are 100% cloud-based, mobile-enabled, and integrate with the leading enterprise systems and cloud apps your business relies on. By centralizing all information, Igloo Software provides a single-source-of-truth and enables a more productive and engaged workforce. For more information, please visit www.igloosoftware.com. Follow Igloo Software on Twitter, Facebook, LinkedIn, and Instagram. 
Press Contacts 
Kay Blazar 
SVM PR
[email protected]
1-401-490-9700