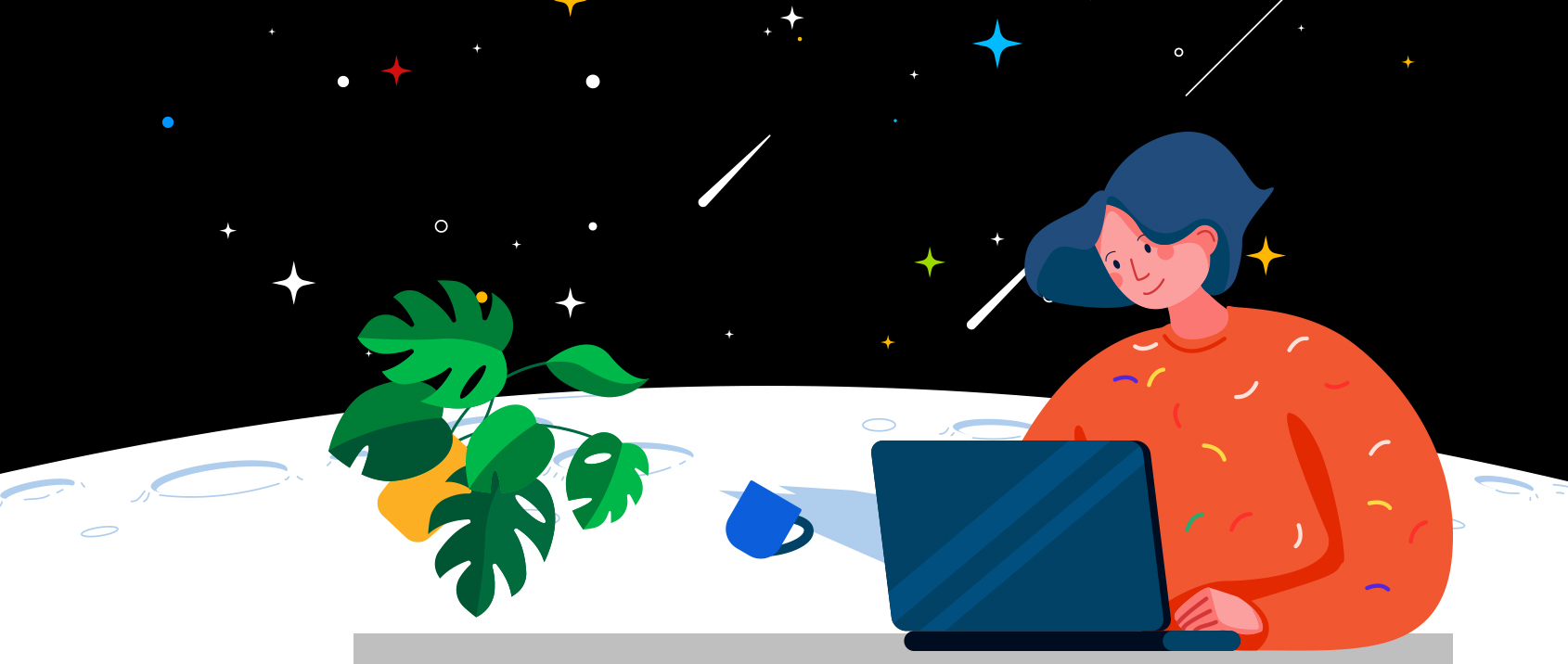 The pandemic-driven shift to remote work left no time for preparation. When offices closed overnight, organizations in varying stages of remote-work readiness had to start communicating and collaborating from home.
Many companies were understandably caught off-guard. They didn't have the right tools or culture to support a fully remote workforce. Now, as the dust settles, it's time to get ready for the new normal. And that will mean empowering remote employees to work whenever and wherever they choose – however unconventional those choices may be.
Our remote workspaces are diversifying
With the explosion in video conferencing in recent months, you've probably seen some of your colleagues joining calls from places other than their desks – maybe the couch, the kitchen table, or even the backyard deck.
But stay-at-home orders ensured most employees did, in fact, work from their personal residences during the height of the pandemic. Before the emergency, though, the definition of remote work was expanding. Working from home didn't necessarily mean being at home.
Research showed just over half the workforce worked remotely at least once a week prior to COVID-19. Compared with the massive remote work scenario of spring 2020, this isn't a huge number, but it was substantial enough to warrant growing attention from employers worldwide.
About a month before WHO declared the pandemic, we asked 2,000 employees working at medium-sized and large organizations how they connect with their coworkers online, including where they choose to work when they aren't in the office.

Since the pre-lockdown options for remote work were wide open, we discovered people set up shop in some creative places. While our respondents said home is the most common place to work outside the office, they also said they connect from coffee shops or restaurants (37%), coworking spaces (26%), cars or public transportation (22% and 10%), libraries (17%), and even bars (7%).
That last location probably merits a separate conversation, but – wherever they work – most people in the survey are now using a combination of mobile and desktop apps to get work done. In fact, 21 percent spend more than half their time on a mobile app when they're off-site.
As we move forward into the next stages of the pandemic, this snapshot of the state of remote work right before the crisis can help organizations adjust to the wants and needs of a transformed workforce.
Now that millions of employees know firsthand that sitting in a cubicle isn't a prerequisite to productivity, their appetite for flexibility and innovation will only increase.
Work will never be the same
COVID-19 irrevocably changed the nature of work. Planning for business continuity in the face of ongoing and future disruption has become table stakes for organizations of all sizes in most industries.
That means not only having the technology in place that will allow you to pivot to 100 percent remote work anytime but taking a supportive stance in addressing remote workers' unique requirements.
A poll of 25,000 adults in the U.S. during the pandemic found more than three-quarters would like to continue to work remotely at least occasionally, while more than half would like this to be their primary mode of working.
On the flip side, many business leaders are demonstrating a willingness to change the way they do business-driven in part by employee demand, but also, no doubt, by the cost savings of a remote workforce.
Gartner's recent survey of more than 300 CFOs and finance leaders found 74% plan to move at least 5% of their previously on-site workforce to permanently remote positions, and nearly a quarter said they will move at least 20%.

How to optimize remote work in the new reality
If remote work is going to increase, and if it's going to look different than it did in the past, how can your organization get ahead of the game?
First, take care of logistics and infrastructure. Determine exactly which members of your workforce can work 100 percent remotely and ensure you can equip them at a moment's notice. Then take a hard look at your communication and collaboration tools: are they up to the task of keeping everyone connected and productive, even when they're apart?
With the tech side taken care of, you'll need to build a culture that advocates for your remote workforce. This is not the time to micromanage people to assuage your anxiety at not being able to see them at their desks.
According to Gartner, that approach will only disengage and fatigue already stressed employees. Instead, put complete trust and confidence in remote workers to do the right thing.
Here are some practical steps you can take to set remote workers up for success by fostering flexibility and championing change:
Let employees set their schedules according to their personal productivity.
Allow people to work in non-traditional workspaces.
Provide tools that suit employees' work styles while securing company data.
Deliver instant access to critical information with a productivity-driven mobile experience.
Encourage workers to step outside the home office when it's safe to do so by offering financial incentives (coffee shop gift cards, coworking space subsidies, etc.).
Learn more about today's digital workplace trends
We recently released our 2020 State of the Digital Workplace Report, which identifies prevailing workplace challenges facing many organizations and offers innovative solutions that focus on digital tools and transformation. Learn about our other key findings on remote work by downloading the full report.