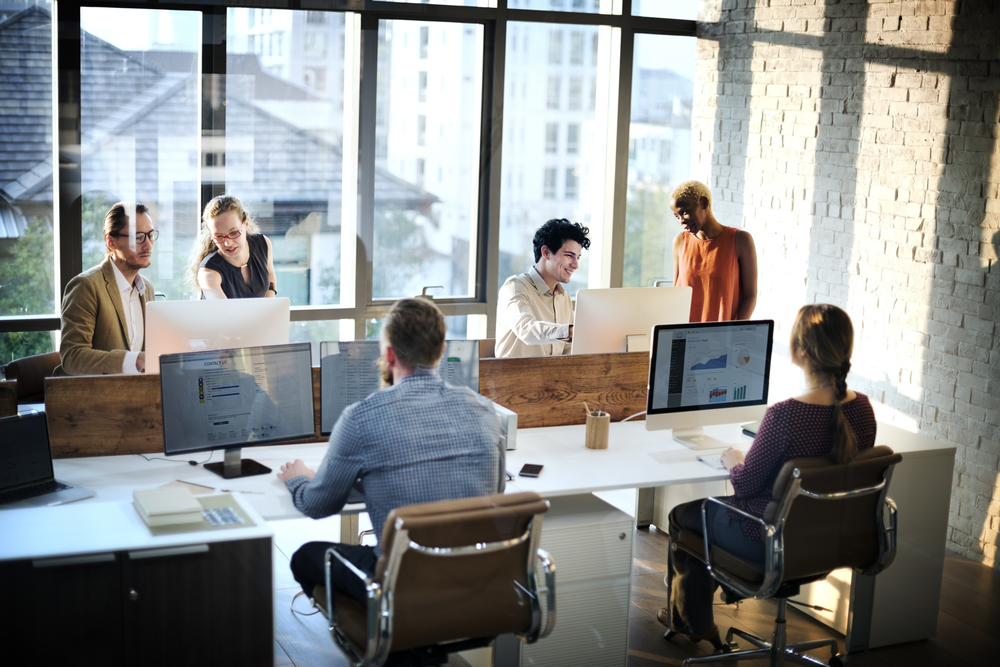 Going to work looks pretty different these days. It's undeniable that the corporate landscape has changed — most employers have pivoted to allow for remote work, empowering employees to control their work environment. While this has eliminated the stereotypically drab, dreary office, where colleagues are isolated in their cubicles for long stretches of time, it has also increased the need for connection. Coworkers who are able to stay in touch and form personal connections then become more successful partners — at least, when given the space and tools to do so. As we continue to shift our views of work and enter further into the digital workspace, we are learning just how crucial connections are. They promote more holistic teamwork and increase company morale, which then leads to higher profit margins. A streamlined way to provide said connection is through enterprise social networks.
What is an enterprise social network?
Enterprise social networks are a tool made precisely for facilitating connections between coworkers. Just like your typical social media platforms, ESNs usually provide employees the ability to create unique profiles that users can customize. From there, they can create posts and other content, as well as view and interact with each other in a more casual and personalized way. ESNs provide the same features, but the users are limited to within an organization; this internal version of social media specifically forges bonds and connections between colleagues. This is similar to an intranet platform, but there are a few key differences.
ESNs vs. traditional intranets
You may be thinking that this sounds pretty similar to a traditional intranet, so what are the actual differences? First of all, intranets are essentially a document management system. They are focused on managing content and information, allowing the users to share files and projects in a streamlined way. ESNs, on the other hand, are more focused on the social aspects of work, like conversation and networking. Both of these functions are important to a strong team and successful workspace, so they are often used in conjunction to create a more holistic, or "complete," internal network, which should be the goal for a company that has gone digital.
Key features
If using an ESN sounds beneficial to your company, there are a few key features that set apart the best platforms from the other options. While there are many options, it's important to consider the following factors and compare them against your company's needs.
Directory
A directory sounds pretty straightforward, but for many ESNs, this is more than just a list of names and job titles. Because users are able to customize their personal profiles, the employees' unique personalities are allowed to shine through. When users are able to present themselves as a whole person, rather than just their position, the door is opened for social connections. Users can add details about their position and work history as well as their communities, interests, and their past work and accomplishments. Colleagues can open the door for conversation about both professional and personal mutual interests, just like in a more traditional social network.
Group spaces
Group spaces are a great way for multiple people to "gather" and kickstart connections, whether they're for casual communication or for group projects to work more collaboratively. These spaces are typically kept private, so that only those who meet the group's established criteria can gain access. When managing content development, this feature is especially useful, as it allows for privacy for the group to flesh out their plans without others being privy. Group spaces can also be used to discuss niche interests or hobbies, and often have the option of being public if the users so choose.
Content discovery
Content discovery is an especially notable feature that is incredibly beneficial to the workspace. A good ESN will have an index of information that is searchable so that users can easily find the content they need without having to sift through every post. From there, posts can be grouped together, employees can tag each other, and content can be modified as updated information is gathered. The best ESNs are capable of searching by author, department, or date posted. The more discoverable your users' content is, the more useful it is.
Activity streams
Another feature that is similar to more standard social media, activity streams are a tool to see the people you follow and their recent activity, as well as post history. By scrolling through your coworkers' streams, you can collect more information to build more social connections. Many platforms include notifications, so that you can keep up with comments on your own posts or responses to the comments you have posted.
Conversational
Just as in traditional social media, blog posts invite comments and spark threads. When readers are able to ask questions or share their opinions, it takes the post from something to simply read, to something they can engage and have a back and forth with. Conversations lead to social connections and more sharing of ideas.
Integrations
If a tool can't work with existing processes, workflows, and other tools, then the goal of efficiency is thrown out the window. A good ESN is able to streamline work, not create more steps. Before committing to an ESN, be sure that it is capable of integrating with your current apps and information. Otherwise, you may run into roadblocks and even a decrease in productivity.
Pros & cons of enterprise social networks
No system is perfect; the above features have both benefits and downsides, which should all be taken into consideration as you further investigate the available ESNs. Every system is different, but here are some common pros and cons that you should keep in mind.
Benefits
Thanks to the above features and the general nature of an ESN, they provide the following benefits:
Reduces inbox clutter – thanks to the "thread" feature, communication is streamlined and contained within the platform, reducing the amount of emails employees must sift through to find what they're looking for.
Centralized collaboration – when all communication and collaboration is kept in one place, teammates are able to quickly share documents, group assignments, and more.
Open knowledge repository – in addition to centralized ongoing communication, users can access their coworkers' expertise, and the information can be easily edited to ensure that everything is up-to-date.
Builds employee connections – it is impossible to overstate the importance of strong employee relationships. When colleagues feel personal connections to each other, they can work better as teams; ESNs encourage and facilitate these connections through the user profiles and comment functions.
Strengthens organizational culture – when companies encourage social connection between coworkers, it drives up company morale and, in turn, a commitment to the company's culture.
Drawbacks
That being said, despite the many benefits, it should be noted that there can be drawbacks, too:
Social distractions – the social aspects are important, but they can be distracting for some; it's important to check in and make sure the productivity features are being utilized more than the social ones.
Notifications outside of work hours – ESNs make messaging and communication easier than ever, but some may begin to ignore the boundaries of work hours, expecting responses and interaction when others have finished work for the day, potentially leading to frustration and burnout.
Groups can silo conversations – when not kept in check, the helpful grouping function may actually lead to silo conversations, leaving others out and creating barriers that hurt collaboration.
Only one tool of many – because companies may also have other tools for internal collaboration and an ESN doesn't cover everything, employees may still have to jump from one app to another, which complicates workflows and streams of information.
Avoid drawbacks of ESNs with an encompassing modern intranet
As you can see, the strengths of ESNs are important to the digital workspace. They provide social media-esque aspects like employee engagement, company culture, and streamlined communication, while traditional intranets encourage collaboration and knowledge management.
For those looking to both update and simplify their company's line of communication, a single modernized intranet system provides the best of both services to promote a more well-rounded platform for employees to create their best work. No matter how widespread your team may be, Igloo is the space for everyone to gather, build deeper connections, and collaborate to create their best work. Happier employees are more engaged, productive, and efficient, which in turn helps your bottom line. If you're ready to see the results for yourself, get in touch with us today to start upgrading your digital workspace!