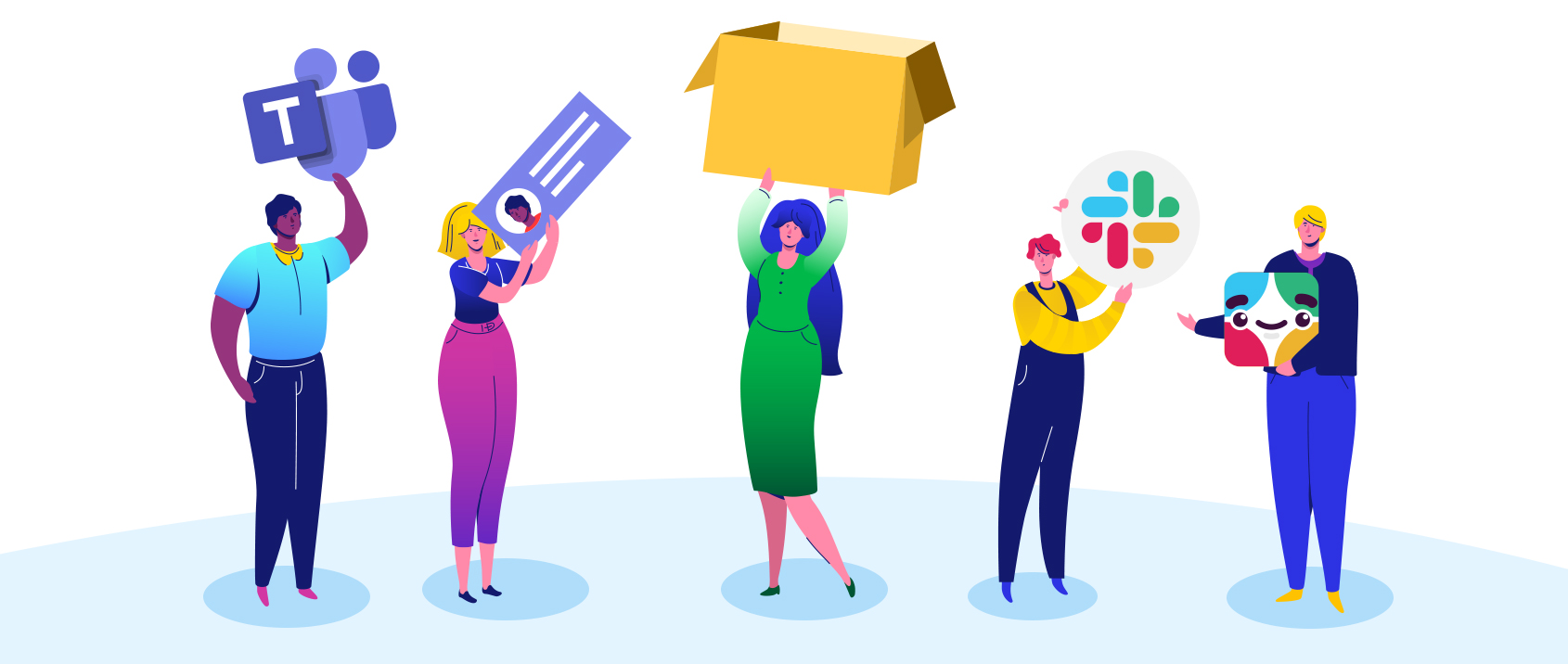 The digital workplace is the central destination that provides employees with convenient access to all tools, processes, and information within a company. Every bit of work that happens in your organization happens there, which means information and relevant conversations are recorded and stored together.
That said, most organizations utilize a variety of common communication methods and apps, switching back and forth throughout the day based on an employee's given objective. In an ideal world, all of these communication tools would work together harmoniously, but the fact is that they often don't, leading to siloes in the workplace, important information slipping through the cracks, and inconsistent processes.
Of course, we aren't proposing opting for one or two main communication tools and then scrapping the others. Rather, we want to share with you how you can utilize all of your tools without the risk of the aforementioned communication challenges by ensuring all apps and tools work in conjunction with your workplace intranet as the hub. Let us explain…
How digital workplaces utilize these common communication methods
Before we dig into the "how," let's break down the "what."
Inside your digital workplace, there are three common methods of communication that employees can use to get their work done: the intranet, email, and IM. While each have their own purpose and strengths, they're all critical components of a modern office communications strategy.
Intranets
An intranet centralizes company-wide communications, stores information and knowledge for all employees to access, enables team collaboration, and acts as a culture vehicle that gives employees a sense of purpose and belonging. Your intranet must also tightly integrate with your chat apps and email in order to maintain knowledge and put conversations into context of the work being done.
Email
Email is best suited for external communications or as a way to direct employees to information that is stored on the intranet. While it isn't realistic to completely phase email out – as a primary communication tool for the last few decades – but it can be used more effectively alongside these other methods.
IM & chat
IM or chat enables fast, direct conversations with individuals or groups and fosters a rapid flow of actions and ideas between employees. Employees from younger generations grew up in the age of instant communication, so they will naturally gravitate toward this method.
Everyone is chatting
Thanks to the growing popularity of instant messaging (IM) apps, what started as a simple way to streamline collaboration and reduce emails has turned into app overload. And it's taking a toll on employee satisfaction and killing productivity.
From Salesforce to time-tracking software, almost every application now offers chat features in some capacity. As a result, conversations are happening across dozens of platforms (up to 28 per employee, according to this study) with no rhyme or reason as to how company information is being stored or shared.
Then there are messaging-centric tools like Slack and Microsoft Teams that promise to keep your company connected using a mix of all-company, department-specific, and project-related channels. Though loved by many, the chaos that ensues as new channels are introduced and old channels pile up is unwieldy to tame, leaving organizations in a worse state than when they started.
One study found that it takes employees an average of eight minutes to get back on track after replying to a chat message. Multiply that by the number of instant messages employees receive in a day and it's no wonder productivity in today's digital workplace is suffering.
Throwing out IM is not the solution. In fact, there are still many good uses for quick and sporadic conversations with our coworkers, some of which are outlined in this article: Get the Most out of Internal Messaging: Give it a Home in Your Digital Workplace.
So then, how can we integrate IM into a greater office communication strategy that enables higher levels of productivity and engagement, but still gives employees the flexibility to work how they want? It requires a hybrid approach, with the intranet at the core acting as a consolidation platform and presentation layer into your other applications.
How to enact a 3-in-1 model
Employees will choose the tools that make them the most productive. By centralizing all the information in the digital workplace, the hybrid model creates flexibility for employees of different ages, work preferences, and technical know-how.
The hybrid model for office communications may not come naturally to employees, especially if they're accustomed to using only one or two of the methods mentioned above. That's why it's important that employees understand how the model works and why it's important to follow it.
Here are four ways to make the hybrid model an essential part of your culture:
Clearly communicate the model. Explain what communication tools are available, and how and why they are expected to use them.
Educate from day 1. Introduce the hybrid model during company or departmental onboarding so that new hires know what the standards are and how they'll be enforced.
Remove barriers to adoption. For example, if you want employees to use the intranet for communicating, collaborating, and storing knowledge, make sure it's easy for them to do so. Otherwise, they'll find workarounds using other tools.
Set expectations for compliance. With corporate security at stake, it's important for employees to know what tools they should (and shouldn't) use to store sensitive information.
Reap the rewards
Offering a hybrid of communication tools allows you to cater to every employee's work preferences. After all, everyone wants to foster a work environment where employees can manifest their own work style and reach their full potential.
With a next-gen intranet solution that integrates with your messaging apps and email, you can create a single digital destination where employees send and receive information with ease. Fewer messages to manage, less confusion about what goes where, and a lot more time for productive work.
Learn more about Igloo's digital workplace solutions for communication here.
What about Slack & Teams? Where they make sense
At their core, both Slack and Microsoft Teams are team-chat communication tools – whether it's one-to-one or spread across a group. If you need to go beyond text-based instant messaging, you can easily launch a video or voice call, or share your screen to collaborate on files.
They help keep work moving faster than email. And they can be fun too, thanks to features such as likes, stickers, and polls.
Slack and Teams can be effective internal communication tools when they're used in the right ways.
Here's where they're most effective
Making departmental announcements: If there's one channel for the department, it's easy to get a message out to everyone.
Collaborating in project teams: Even if you've got dozens of people on the same project, with Slack or Teams, they can all work together in a dedicated space.
Coordinating across the business: You can set up a space to bring people together from different departments across the organization.
Jumping on a voice or video call: People don't have to be in the same building to work together effectively. With video calls, especially, off-site employees can feel more connected.
Chatting on the fly: You can easily set up a quick meeting with a few people to resolve issues fast without generating emails. And thanks to desktop, web, and mobile apps, you can connect from wherever it's convenient.
Where they're not so hot
Even the best internal communication tools eat up quite a bit of time – and that's one reason there's been a backlash against Slack, for example.
Because they generate alerts, some people find Slack and Teams distracting, with pop-ups constantly interrupting their work time. Often, users feel pressure to respond, even though they may be trying to concentrate on something else.
In some ways, these employee communication tools can seem like a meeting with no agenda and no clear ending. That can be a drain.
Slack or Teams for internal comms?
So, if your role is focused on internal communications, do you need Slack or Teams?
Slack and Teams offer potential in scenarios like these:
Sharing news: Sending out an announcement is quick and simple. But there are limitations because you can't do a lot of formatting, and you need to be mindful about the channel (sometimes organization-wide might not be the best).
Two-way comms: You can pose questions and get quick responses. People can then comment and like, so it's a good way of getting the conversation going. The downside? You can't moderate the conversation or push comments down the page. And because replies aren't threaded, comments can seem disconnected.
Getting feedback: Add-on apps like Polly allow you to take a quick poll, while others let you do a survey. The downside is that polls aren't anonymous, so people might not feel comfortable sharing their true feelings.
Video events: Teams, for example, launched 'Live Events', which enables video streaming, whether it's from a professional studio or by a leader making an announcement. And you can use chat capabilities for more formal Q&A management during the event.
How Slack and Teams can work alongside your intranet
When Slack first came out, there was speculation it could mean the end of intranets. But, in fact, internal communications tools and intranets can – and should – coexist happily to facilitate all kinds of scenarios, including these:
Posting news: When there's an activity feed and you make an announcement in Slack or Teams, it gets pushed down the page. But with an intranet, you can make sure that news stays at the top of the page.
Engaging with leaders: Tracking what leaders are saying can be a challenge within peer channels like Slack and Teams. Instead, create a leadership page or blog and add context (like a bio and "Ask the CEO"). You just don't want it to feel too sanitized – and that's where real-time tools can complement a leadership blog.
Running town halls: You can schedule and run a live event like a town hall in Teams. Ahead of time, you can create a virtual town hall area on your intranet to publicize the event and ask attendees to submit questions they want to be answered during the session. Afterward, use your intranet for follow-up activities, like posting a transcript for employees who may have missed it.
Create a single destination for all apps
There are no worthwhile shortcuts in life. And rushing to assign any single messaging or chat app as your intranet platform will not prove helpful to your organization in the end.
It doesn't have to be a "one or the other" situation – IM or intranet or even email. If you think like this, you'll unknowingly throw out tools that can bring real value to the business and help employees get their work done.
Instead, your IM and group chat tools – along with many other productivity, file-sharing, and HR systems – can exist under the same umbrella: your unified digital workplace.
They can all work together as part of this larger technology eco-system that gives employees quick and easy access to all the tools and information they need.
We wrote the industry's first playbook on how to deploy a successful digital destination. Explore practical and methodical approaches (inspired by our customers) to see how your strategy stacks up.
Watch the webinar for more information – including practical tips on sharing corporate news via Slack and Teams – and to hear Sam's thoughtful answers to burning questions from the audience.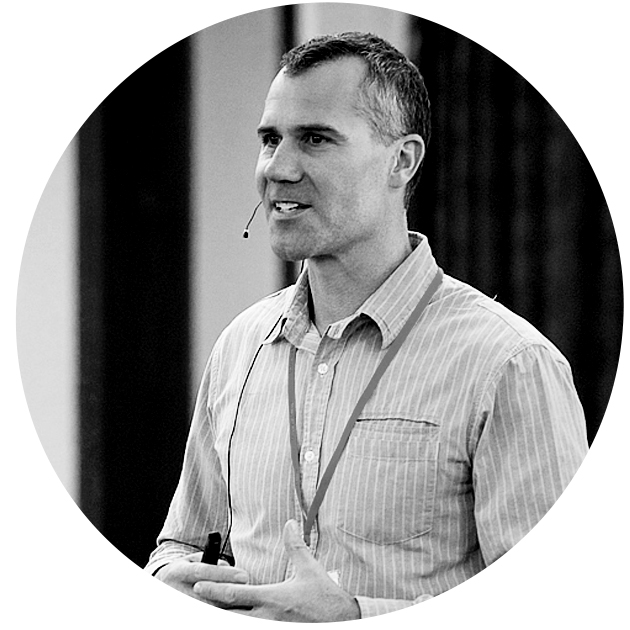 About Sam Marshall
Sam Marshall is the owner of ClearBox Consulting and has specialized in intranets and the digital workplace for over 19 years, working with companies such as Unilever, Vodafone, TUI Travel, Diageo, Sony, and GSK. His current activities focus on intranet and digital workplace strategy, and the business side of Office 365.
Sam is a regular keynote speaker at international conferences and has been named a 'Contributor of the year' for his CMSWire column four years in a row. In 2015 Sam was given the Intranet Now award for 'remarkable contribution to the intranet community.' He has an MSc in Artificial Intelligence, an MA in Psychology and more bicycles than shoes.
Email [email protected] or tweet @SamMarshall