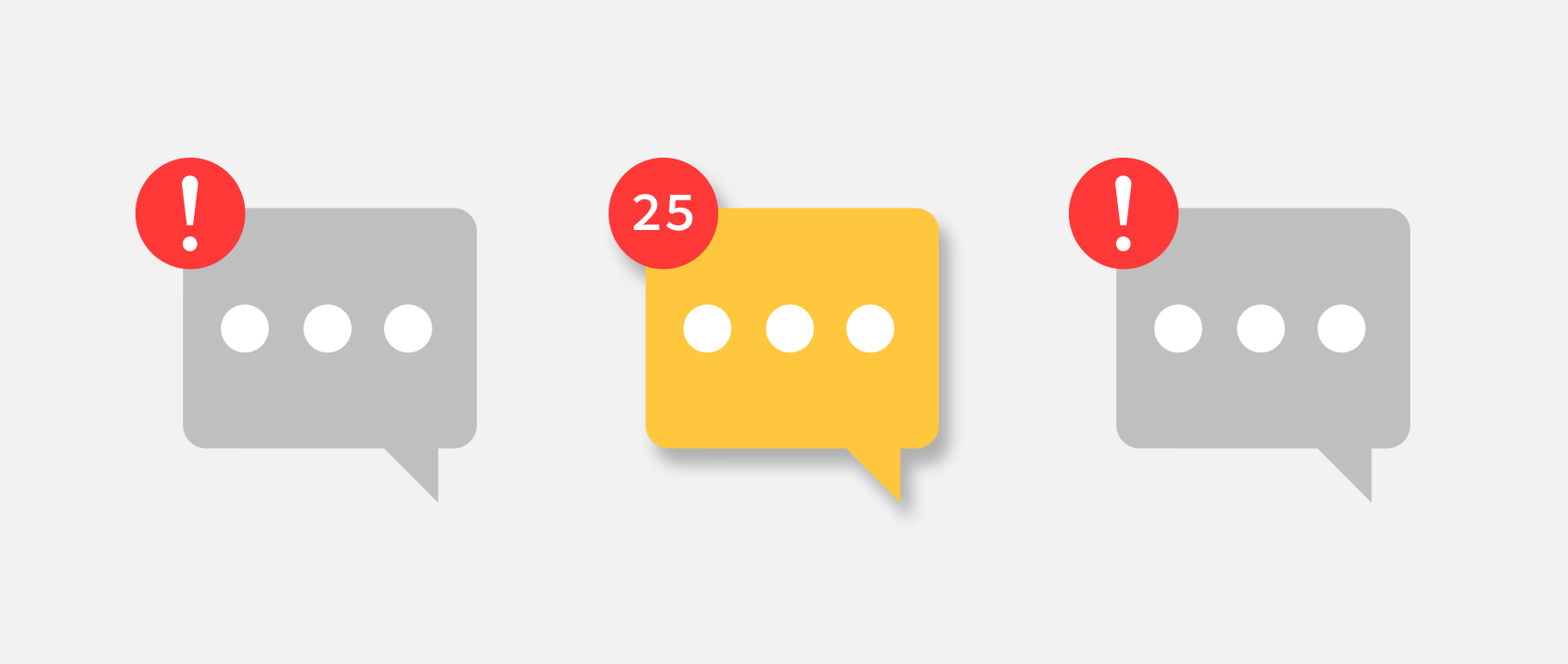 We all rely on instant messaging for quick and easy communication in our personal lives, so it is no surprise that it is also on the rise in the workplace. Organizations know it is not going away, yet few have figured out how to maximize IM's benefits while managing its downside.
This has left many companies on the fence – not prohibiting instant messaging in business communication, but not promoting it either. There is good reason for their ambivalence, given the pros and cons of using IM for internal communications at work.
But there is a viable middle ground for organizations on the path to digital transformation. By formalizing the etiquette around workplace messaging and bringing it into the fold of a digital workplace platform, you can gain the best value while avoiding its pitfalls.

Benefits of instant messaging at work
The name says it all. IMs pop up on your recipients' device in real-time and get right to the point, eliminating the preamble and small talk common in email and phone calls. For fast-moving projects that demand immediate answers from individuals or groups, there is nothing else like it.
Other advantages of instant messaging at work include its ability to:
Connect off-site employees:

Remote workers

and external partners can immediately chime in on the conversation.

Deliver immediate employee feedback:

Millennials and new employees appreciate speedy reactions to their performance and output, and everyone likes the occasional thumbs-up.

Promote creativity:

Group chats foster a rapid flow of ideas for brainstorming and problem-solving.

Reduce overflowing inboxes:

A

survey of Slack users

found a 49% reduction in internal emails.

Improve relationships:

The same Slack survey found 89% of Slack users feel more connected to their teams.
Instant messaging is a well-known tool that any employee can adopt with confidence at work, yet there can be downsides to this familiarity.

Drawbacks of instant messaging at work
In most enterprises today, there are countless non-approved tools in use, including instant messaging apps. A 2019 survey of 2,000 employees at medium-sized and large organizations found half have used an app or piece of software without the knowledge or approval of IT.
They do it because messaging apps such as Slack are convenient and simple to use for internal messaging and collaboration. But there is a big potential security cost when organizations allow unrestricted use of shadow IT, especially in regulated industries.
In financial services, for example, a recent survey found 61% of respondents believe IM is the most effective way to communicate with remote colleagues. Yet, 85% say the security of their chosen IM apps could be improved.
Beyond security, instant messaging at work can bring other problems:
It can create noise and waste time:

A daily barrage of chat can be highly distracting. In

the 2019 survey

we referenced earlier, a quarter of respondents said they feel pressure to respond to instant messages immediately, even if they are in the middle of other work. With the rise of remote work,

this can be exacerbated if not managed properly

.

It builds communication silos:

Different groups across your organization may be using different messaging apps, which fractures conversations and limits participation.

It is hard to organize:

Capturing and storing the valuable information in chats by project or subject is nearly impossible.

It can be unprofessional:

Employees are used to the informality of chat in their personal lives, and this habit can spill over into inappropriate internal messaging in the workplace.

It is inefficient for organization-wide communication:

You cannot push out

vital communications to the whole company

and ensure receipt when employees are using multiple IM apps.
Find out why IM is raising flags for IT
Bring conversations onto a secure platform
These drawbacks are significant, but there is a way to avoid them and optimize all the productivity and engagement benefits of instant messaging in business: Give it a secure, IT-approved home on your digital workplace platform.
Bringing these apps into a central destination puts conversations in context, surfaces content that is worth sharing and keeping, and consolidates internal communication. You can empower people to use the tools they know and love while encouraging them to try out other communication solutions.
Here are five strategies for success:
Publish instant messaging etiquette:

Everyone can access the organization's communications standards if they are posted on your company intranet. A few basic reminders are all you need:

Respect employees' status message:

One

report

found a 47% productivity boost from users who update their online chat presence.

Use courtesy:

Ask if it is a good time to chat before firing away.

Keep it short:

Longer conversations require a different communication channel.

Remember you are at work:

Be conversational, but professional.

Integrate favorite messaging apps:

Plug apps like

Slack directly into your intranet project spaces and

team rooms

. Ditch the clutter of non-work-related chats and only include relevant work channels in these core work zones. By doing this, you also get the added benefit of surrounding your chat with key documents, project KPIs, tasks, templates, timelines, and stakeholder profiles. You can save crucial conversations in a searchable wiki to further round out your knowledge management strategy for instant messages.

Cultivate engagement through workplace social chatter:

When you have a dedicated

social center

, you can spark conversations with microblogs. Essentially a company newsfeed, microblogs are like virtual water coolers where comments and chats are visible to everyone. Valuable information can easily be organized and archived.

Break down siloes:

A built-in, searchable people directory supports organization-wide collaboration. You can even start a

Skype for Business

chat directly from an employee profile.

Encourage slower, more thoughtful conversations:

Forums give employees time and space to reflect on subjects that aren't suitable for IM.
Add IM to your communications strategy
There are pros and cons to using IM for internal messaging at work. On one hand, it enables employees to get answers quickly and directly to help them do their work. On the other hand, it can have negative effects on security, productivity, and culture.
There is no doubt that IM will remain a preferred mode of communication for employees because it is familiar and convenient. The key for organizations will be to encourage an appropriate balance of public and private workplace conversations using a set of modern digital communication tools that are both IT- and employee-approved.
Learn more about Igloo's digital workplace solutions for communication here.