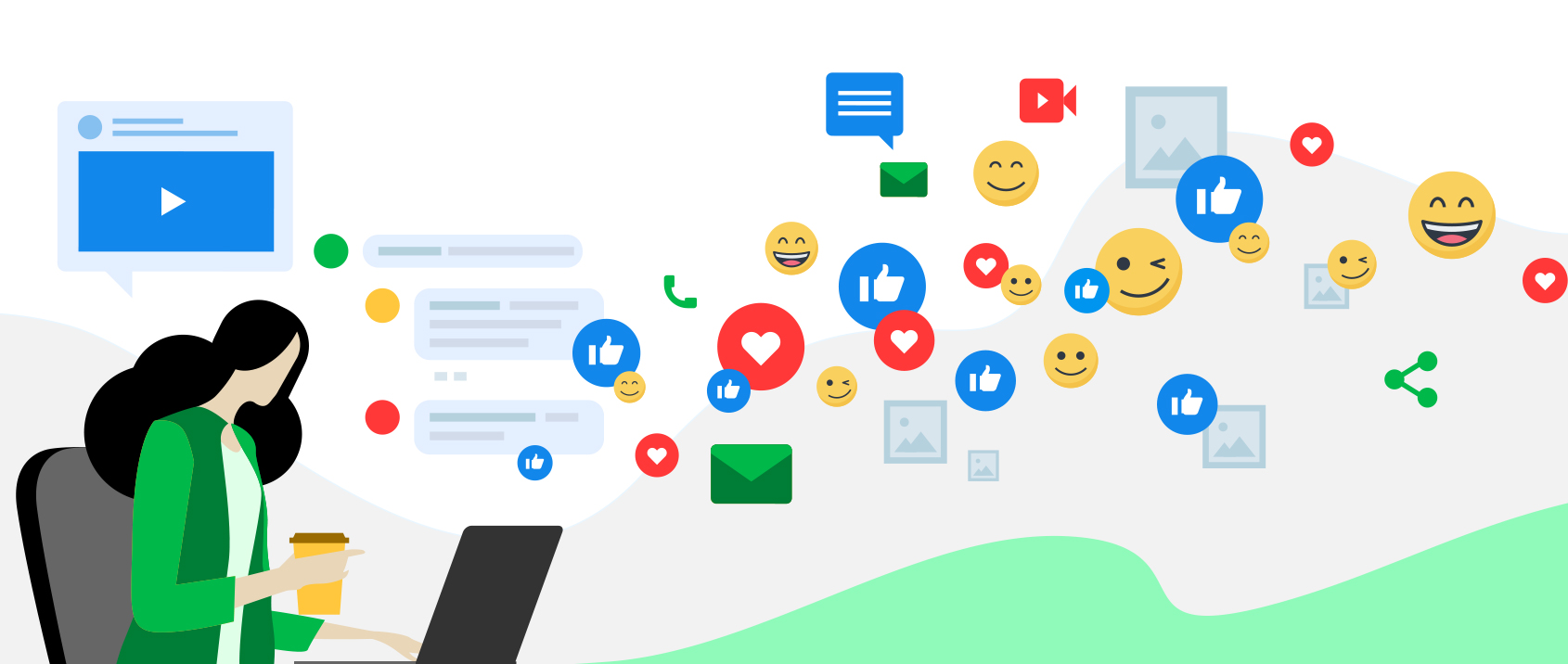 There are more options for communicating at work than ever before, yet many organizations are struggling to keep employees connected, aligned, and productive. How your organization communicates to and with employees is inextricably linked to the employee experience, which makes improving communications business-critical. It is not enough just to ensure people are informed. There should be mechanisms for information to flow up, down, and across the company, creating easy communication pathways to colleagues, senior management, and anyone in between. There should also be processes built into the daily workflow for people to share ideas, spark conversations, and be social.
Why communication is important in the workplace
The realities of today's workplace, including the growing number of remote workers and increasing use of personal productivity apps, present formidable communication challenges. When workplace communication is weak, the costs are high: Disengaged workers, information silos, and disturbingly low employee engagement rates worldwide all have a negative impact on productivity and innovation.
Poor internal communication is estimated to cost large companies (100,000 employees) an average of $62.4 million per year, and smaller companies (100 employees) an average of $420,000 per year.
Improving workplace communication is about making strong, company-wide connections and getting everyone on the same page, often using digital workplace solutions. The benefits include increased engagement, a healthier culture, and more work getting done. Here are effective strategies that you can implement for better communications at work:

1. Centralize new & existing communication tools
Start by determining what communication methods and tools employees are using, how they like them, and how well they work. No doubt you will find that unsanctioned apps and software are pervasive. A recent survey found 50% of employees use a digital tool that's not company-approved. This "shadow IT" results in patchy internal communication that relies on a collection of incompatible apps and tools.
The consequences of decentralized, fractured communication are worse for remote workers. Without the advantage of face-to-face interactions, essential data may not reach them. An alarming 57% of remote workers say they have missed out on important information, and 43% have been unable to access people or groups. This leads to wasted time, revenue loss, and low engagement.
Bring everyone into the loop by consolidating all modes of internal communication, including employees' preferred apps, in a single digital destination. Digital workplace solutions for communications integrate with existing apps and enable consistent messaging and productive conversations across the whole organization from one easy-to-find, easy-to-use place.

2. Build a bridge to the top
Consolidating the tools for connection is crucial for strong workplace communication, but it is also vital for senior leaders to walk the walk when it comes to creating a culture of open communication. If they do not, people will notice.
In a poll of 1,000 American employees, 91% said subpar communication reflects negatively on executives. Further, a global survey of workplace communications professionals found that poor communication impacts the ability of employees to understand company vision (38%), financial performance (51%), long-term strategy (57%), and short-term business plans (54%). All of which are critical factors that impact employee performance and engagement.
When executives communicate directly with employees and invite their feedback, it builds trust and loyalty. Go beyond standard leadership bios and annual employee surveys to create a dedicated space for leadership communications. Showcase everything the people at the top are doing and saying, from media appearances and social media activity to blogs and dedicated internal notes for employees. Just make sure there are opportunities for employee questions and comments.
A virtual town hall is another way to bridge the gap between employees and the senior leadership team. By creating a digital home for town hall content and feedback, you can ensure that no one misses out and everyone has a say.

3. Create one-stop information hubs
An informed employee is more likely to be an aligned and engaged employee. Yet the average knowledge worker spends almost 20% of their work week searching for and gathering internal information. When staying informed is a slog, frustration is the outcome — not engagement.
Digital workplace solutions give employees quick, easy access to the information they want and need, while simplifying distribution and ensuring accountability.
For example:
A newsroom curates information like consumer news websites, giving employees a reliable and familiar way to navigate company updates, events, and more.
A governance center saves time for employees and mitigates risk for organizations by centralizing policies, procedures, and other important documents.
A brand knowledge base consolidates all of your organization's creative resources and brand guidelines, making it easy for everyone to stay on brand.

4. Make it social
Social media is integral to most people's day-to-day communication in their personal lives, and increasingly in their professional lives as well. In a recent global survey on social tools in the workplace, executives said the biggest business benefit of these tools comes from improved internal communication. 66% said that social tools allow employees to communicate more often with people from different teams, functions, or business units.
Yet, there are drawbacks to using consumer-based social media at work. While 76% of employees say they connect with coworkers on social media, 71% say they have decided not to post something because those colleagues might see it. Every organization maintains certain standards of employee behavior and upholds a brand reputation.
Instead of using Facebook, Instagram, Twitter, and other similar platforms, you can leverage the popularity of social media by creating a dedicated social center within your digital workplace. Offer people an outlet for socializing and interacting in a more structured, productive way through club pages, social event calendars, company classifieds, a photo wall, forums, and more.

5. Give employees a voice
Employees should not only be consumers of workplace information, but producers as well. By including them in the content creation process, you signal that workplace communication is not a one-sided monologue from above.
Research shows that encouraging employee storytelling enhances internal communication by relaying key messages and themes in an authentic, relevant way. In other words, people have frontline experience and expertise to share that can reinforce the values of the wider organization.
A central digital destination can provide multiple outlets for creating and publishing content. Blogs, for example, are an ideal way for people at every level of the organization to tell stories that matter.
Ready to communicate better at work?
If you are currently experiencing any of these types of communication issues, you are not alone. In fact, most organizations struggle to find the right mix of a digital workplace platform that is easy to deploy, manage, and engage with. The key is to first focus on what you want to improve first, then build a plan around it.
Not sure where to start? Get in touch with our expert team today and realize your workplace's potential.