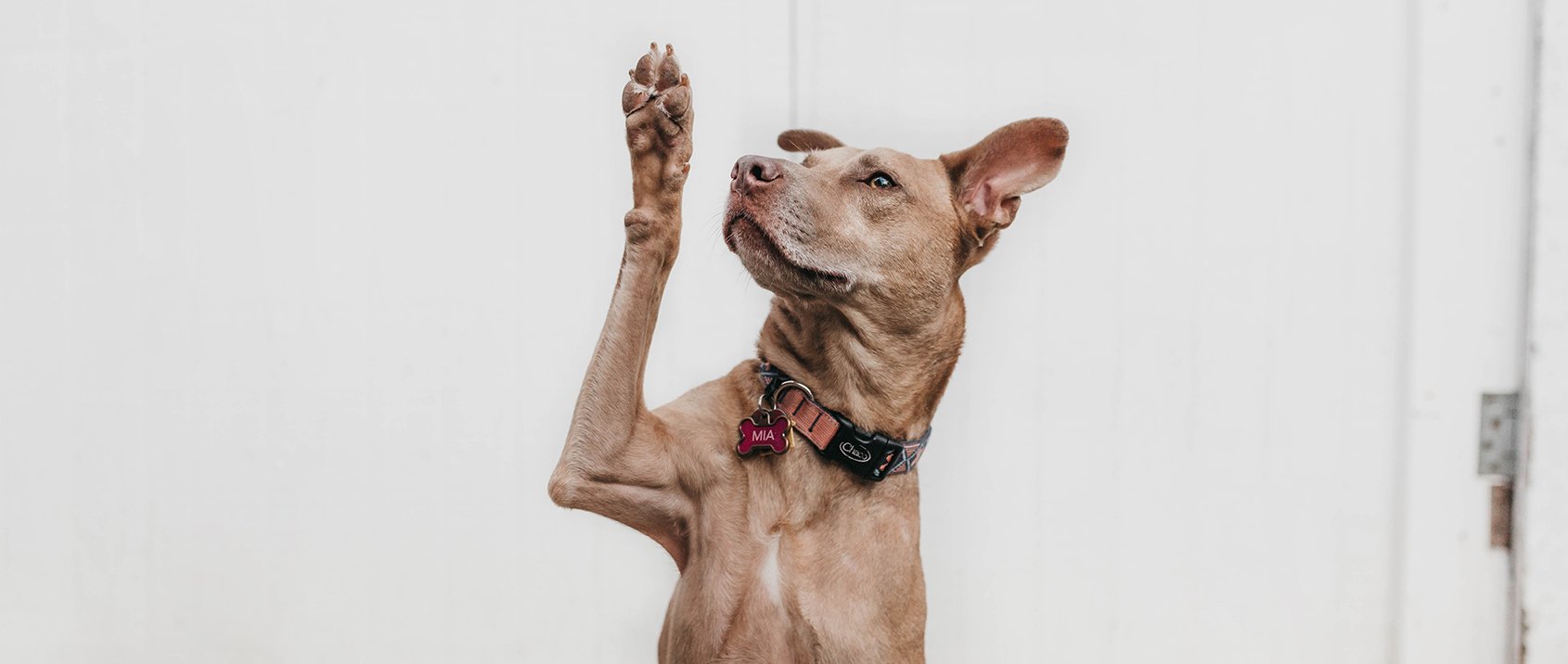 Successful companies know from experience that when employees are engaged, business benefits are sure to follow. By devoting some well-deserved attention to the people who keep the business running every day, organizations can realize higher profit growth and improved productivity, as well as greater customer loyalty and employee retention.
In this post, we'll cover the following aspects of employee engagement & involvement:
What is employee engagement?
Only 15 percent of employees worldwide and 34 percent in the U.S. are engaged, according to Gallup. Fostering employee involvement will help increase these lackluster stats and help your business grow.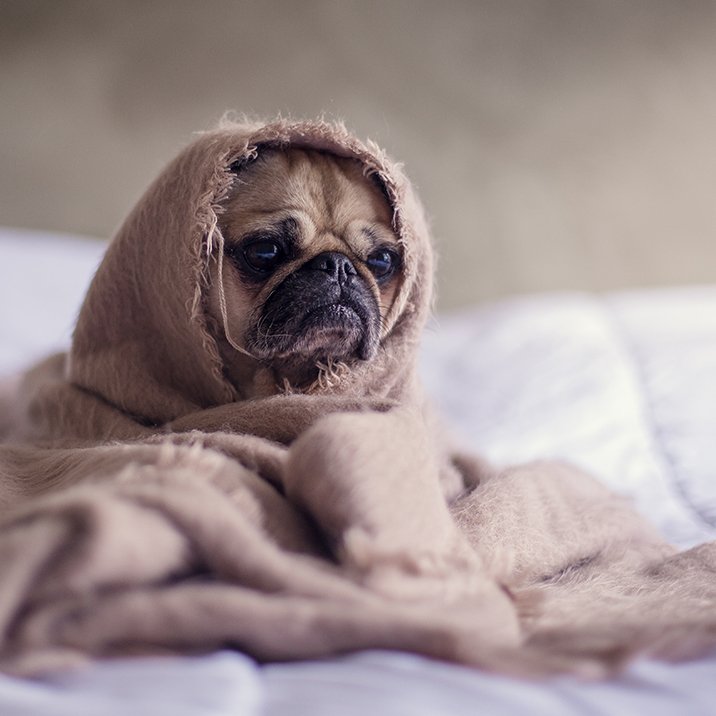 Research also shows that employees who are involved and play an active role in workplace practices and processes are more engaged. Engaged workers are good for the bottom line because they're more productive, creative, and inclined to stay with your company.
Employee engagement vs. employee involvement
So are "employee engagement" and "employee involvement" interchangeable? They are related, but not quite. If an employee is engaged, it means that they agree with and understand your organization's objectives and goals. This helps motivate them to come to work and get things done because they can get behind the purpose of those tasks. Unfortunately, that doesn't necessarily mean that they will be involved and actively participating in activities to build the company's culture and contribute to its decisions.
We discussed some strategies for employee engagement here, but with remote work on the rise, we should also consider how technology can make or break employee involvement and engagement. A recent Harvard Business Review survey of executives found that 86 percent of respondents believe that technology has a greater impact on employee engagement today than it did three years ago and that this trend will continue in the coming years.
A digital workplace offers simple and effective ways to boost engagement by encouraging employee involvement in all aspects of your organization, from high-level strategy to grassroots social activities. Now that we understand employee engagement, let's define employee involvement and its benefits, then consider the importance of this participation in the digital workplace.
Employee involvement definition
We mentioned how employee engagement can be thought of as the first step in employee involvement earlier. Now, here's a simple definition of employee involvement: the direct participation of workers in planning and continuous improvement by contributing their own ideas and expertise. It's a leadership philosophy where employees have a strong voice in decisions and actions that affect not only their jobs but the whole organization.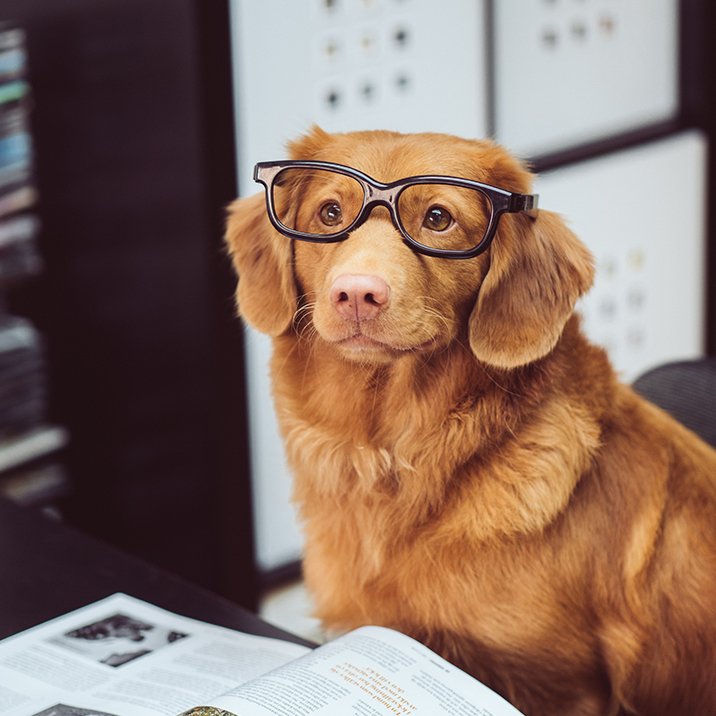 Involved employees feel a greater sense of commitment to the company, which motivates them to give their best effort. Not only that, but organizations often benefit from using input from different levels of the hierarchy to make decisions. Research confirms that employee involvement has positive results for both individual workers and the company at large, including improved:
Employee morale and wellbeing
Retention
Productivity
Organizational decision-making
On the other hand, low employee involvement can result in low engagement, which hurts organizations. Gallup found that disengaged employees have 37 percent higher absenteeism, 18 percent lower productivity, and 15 percent lower profitability.
Why is employee engagement important?
As we mentioned above, employees who are both engaged and involved in the organization's culture and values benefit those around them. Not only are they happier, more productive, and more committed to the organization, but disengaged employees can have serious financial costs. Gallup estimates that each disengaged employee costs their company the equivalent of 18 percent of their annual salaries.
Not only that, but disengaged employees lead to disengaged customers who are less likely to work with you or buy your product or service. This is a huge amount of money that you have to spend to compensate for the shortcomings, replacements, and retrainings. By connecting your team, it improves commitment not only to other team members, but to the team and its goals.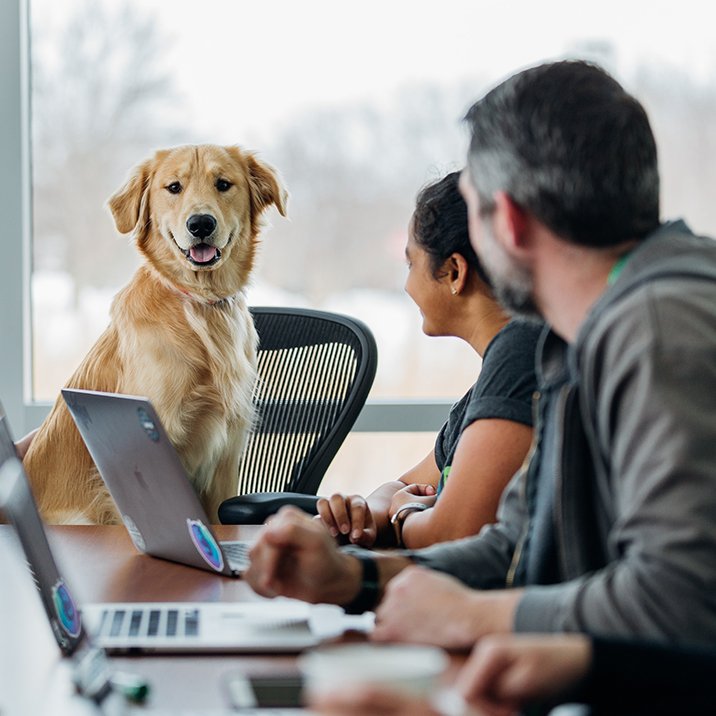 How an intranet increases participation in an organization
For example, many companies use intranets or digital workplaces to keep everyone connected. However, most intranets used to be top-down, information-centric repositories of files and documentation. Employees had little to no input on their content or operation. Thankfully, that's changed. With remote workers and global offices becoming the norm at many organizations, a digital workplace is the only place where everyone can go to access information, collaborate, and forge social connections. Now we have bottom-up, interactive social intranets, which are focused on employee's needs and contributions.
Digital workplace platforms like intranets enable employees to connect with each other and create and interact with content, wherever and whenever they work – just like they do with their personal apps.
According to Deloitte research, organizations can improve employee engagement by borrowing consumer best practices and human-centered design.
There are a few basic requirements for your digital workplace and company culture that you'll need to tick off before you start any employee involvement initiative:
Ensure your intranet is easy to use and has reliable, up-to-date content
Create robust privacy and security policies
Get the leadership team to model active involvement
Invite participation from employees at all levels
Welcome diverse ideas and opinions
Employee engagement tools
Now that we understand how important engagement is, there are a handful of tools that can be used to improve it in everything from decisions to posting on social forums. Software centered around recognizing (Kudos, Reward Gateway, Kazoo) and surveying (Culture Amp, 15Five) employees, task management (Asana, Trello, Monday.com), and much more can be used together to improve how employees interact with each other and the company.
Another option is an intranet platform, which can incorporate all of those in one package as well as scaling and configuring to fit you and your organization's needs. At Igloo, we work closely with our customers to build and deploy digital workplace solutions that address their key business challenges.
If you need tools to help you improve employee engagement without replacing the entire company intranet, you might want to consider a Department Zone instead. It's designed to help specific departments meet their goals without needing the cooperation of the entire organization. For instance, the HR platform includes these pre-built solutions:
Strategies to increase engagement & involvement
So now that you have a better idea of the tools you might use, what steps can you implement to build and sustain engagement? We've put together a list of employee engagement activities that can help you make sure your efforts are headed in the right direction:
Get leadership on board
Company culture starts at the top. Executives can make or break the success of your employee engagement initiatives. Your leaders have the power to create an open and transparent culture where collaboration, communication, and innovation drive revenue and growth.
Key actions:
Keep the dialogue open. A healthy company culture starts by proactively communicating with employees. Provide digital channels to easily communicate updates and address employee comments, feedback, and ideas.
Get leaders participating. Encourage transparency and a rapid flow of open communication and ideas between employees and executives. Invite employees to participate in business planning and decision-making sessions (even those in non-leadership positions).
Demonstrate the business value of employee engagement. Done well, employee engagement programs should simultaneously cut costs and increase profits, according to Gallup research. To ensure executive buy-in for ongoing employee engagement efforts, provide data that shows the financial benefits.
Engage employees from day one
An employee's first few weeks at a job can determine how long they stay with the organization. A study from 2019 found that 69 percent of employees are more likely to stay with a company three-plus years after a positive onboarding experience. You can inspire and motivate new hires with an effective onboarding experience that focuses on engagement.
Key actions:
Provide a knowledge base of policies and a forum to ask questions. Giving employees multiple channels to learn about the company in their first few weeks will help them ramp up faster and feel confident about taking on their first set of projects.
Create a structured, easy-to-navigate onboarding experience. Provide instructions for setting up their personal profile, managing subscriptions, learning about business tools and processes, connecting with peers and SMEs, and finding important information.
Consider providing access to your onboarding center before day one. New employees are excited to join your team, and are eager to learn about your company's mission, vision, and values – and what it takes to succeed. Help them get a head start by providing access to your onboarding resources.
Treat employees like customers
In today's job market, employees can be selective about where they work – and how long they stay. Treat employees like customers whose loyalty and attention must be earned, and you'll have a better shot at retaining them for the long term.
Key actions:
Map out the employee journey. Be honest about potential career paths. Create clear expectations for their performance, with benchmarks to help them gauge their progress – and offer your full support every step of the way.
Approach employee engagement like a marketing campaign. As an HR leader, your "product" is the employee experience. Take steps to find out what employees think and feel to make sure you're on the right track. Identify key influencers who believe in your company's vision and mission – then harness their influence to launch positive change programs across the business.
Adopt flexible workplace technologies that allow employees to work on their terms. Do your remote workers feel equipped to do great work, no matter where they are? Provide online tools that offer easy access to peers, knowledge, content, and expertise – centralized on your company intranet via a single login.
Reward the right behaviors
Recognize employees who exemplify company values – and watch how it reinforces their commitment to your vision and mission. Employees who demonstrate behaviors and attitudes that align with the company mandate will help build your brand with customers and will encourage leadership buy-in for your recognition programs.
Key actions:
Create an online recognition center. Give leaders and colleagues a centralized spot to share company-wide kudos, peer nominations, and promotions.
Launch employee performance management and recognition programs that align with your organization's Sharing exactly how employees have earned the recognition will help others know what to strive toward.
Encourage employees to share stories that show them "living" the company values. Find multiple avenues to celebrate staff achievements such as your intranet, departmental meetings, social events, etc.
Schedule a call to get started with an intranet & boost employee involvement today.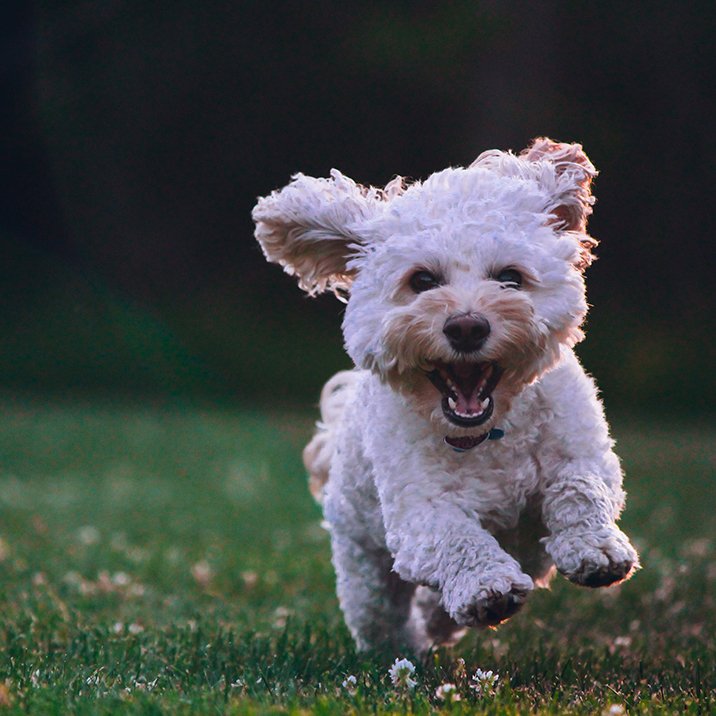 More ideas for involving employees
Run a naming contest before launching your new or refreshed digital workplace. You'll generate excitement and give employees a sense of ownership.
Give employees a direct line to the people at the top. A Leadership Center not only offers an inside look at what executives are doing and saying through blogs and social media activity, but invites employee input. The result: greater trust and alignment with your organization's mission and values.
Let people celebrate their peers in a Recognition Center. It's a win-win for the nominator (who feels empowered by the opportunity to give kudos in a public way) and the nominee (who can bask in company-wide recognition). At the same time, you're showcasing the behavior and performance of your organization's values.
Ask employees what they really think. Deloitte research found that organizations can increase employees' perception of their authenticity by creating open forums for honest employee feedback – even if it's negative. Create a dedicated Feedback Center where employees can share their ideas and opinions (within reason) without fear of reprisal. Make sure that leaders also respond to this feedback so employees know someone is listening.
Inspire storytelling. Encourage employees to tell stories that matter to your organization. Blogs are a powerful way for people to share their knowledge and experience while offering insight into the strengths, priorities, and concerns of the workforce.
Inject some fun into your digital workplace. There are lots of games and challenges that can get employees from across the organization, including remote workers, involved and interacting. From a Scavenger Hunt or Blog Oscars to a Company Playlist or Podcast campaign, make your Social Center a focal point for socializing and relationship-building. You'll build a stronger culture, which is a foundation for strong engagement – when everyone gets in on the fun.
Survey employees using a Poll Widget to get a quick pulse on the organization before making any major changes or decisions. Not only do people appreciate having a say, but Harvard research shows that surveys are a vehicle for changing behavior. When you ask people for their input, you're both learning from and influencing them.
Provide spaces for online communities based on shared personal or professional interests. Employees will feel a greater sense of belonging at work, which nurtures engagement.
Unite new employees in an Onboarding Center. Give them a space to connect, find out their top questions, and create an evolving FAQ. By asking them what they need to get up to speed, you'll accelerate time to productivity.
Spark discussions by encouraging people to like or comment on content. Get leaders to join the conversation and inspire wider participation. You'll gain a crucial understanding of what employees feel is working or not working when it comes to workflows, processes, and policies.
Give employees what they want
Engaged employees are an immensely valuable resource. They are more likely to work hard, think creatively, and produce better results – and that can have a profound impact on an organization's profitability and productivity.
The foundation of engagement is to give employees what they really want:
To understand how their work aligns with company objectives
To find meaning and value in what they do
To feel acknowledged and appreciated
To know that their voice is heard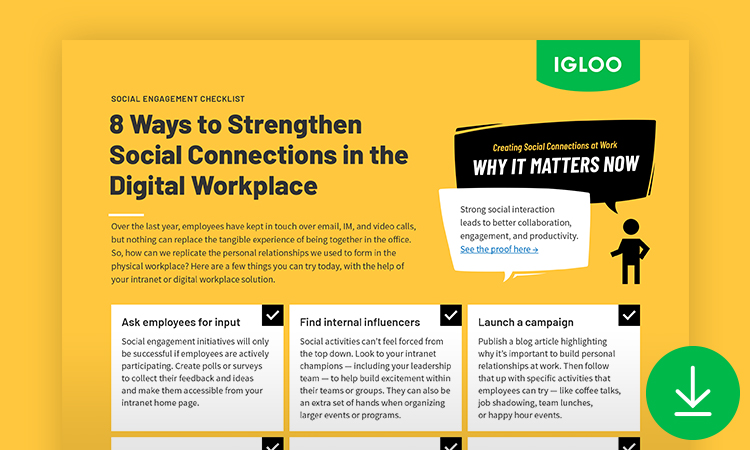 Learn 8 ways your intranet can create a sense of community when people are working apart. Download the checklist.
Measuring employee engagement
The key to measuring something like engagement and attitude is by combining qualitative and quantitative metrics. However, the metrics you choose will be different depending on the company and its goals, so this will be up to you to decide. Are you trying to see how workers feel about decisions? What about how much they interact with coworkers or how much information is shared? Keep in mind that this is what you see as important, but you should also check what's important to employees and focus on those areas.
By using surveys to ask quantitative questions about metrics you identify, such as how involved employees feel on a scale from one to ten, you can turn numbers into charts and trends. Once you have a high-level view of the state of your team over an extended period of time, you can use the qualitative responses to nail down what problems or snags there still are and eliminate them. Anonymous surveys might also be a route to take if common issues aren't being brought up but turnover rate is still high, indicating that there are still unresolved problems.
A more qualitative-focused approach is to use one-on-one meetings with employees where they can feel comfortable sharing criticisms. While a slower and more intensive method, it builds connections between employees and management and gives opportunities for followup questions.
Crucially, these methods only work if the full population is surveyed and not just a sample, so ensure that everyone's voice and feedback is heard. Without proper organization and tools, these insights can be lost or buried. Consistent follow-ups and commitment to managing everything are necessary to solutions being derived and implemented.
Intranet to track performance
This can be overwhelming and confusing without superb organization and analytical tools at your disposal, which is why an intranet platform is the ideal solution for employee engagement. For instance, with Igloo Analytics, you can see all the data, charts, and visualizations across all your teams, integrations, and channels. From high-level trends down to page heat maps, user flow, custom reports, and much more, Igloo makes the information work for you and puts it at your fingertips. This means you don't have to worry about planning and gathering the data, you can just focus on acting on it.
Get everyone more connected & involved today
Ensuring that everyone in a team or company is connected reinforces a feeling of community and involvement. This is especially true today when so many people are working from home but expected to keep the same connections and relationships with coworkers. To prevent isolation and work silos, it's critical to maintain that connectedness and ease of communication to keep everyone engaged.
If you're ready to learn more about how a digital workplace can improve employee involvement at your organization, explore our digital workplace solutions for culture and engagement today.