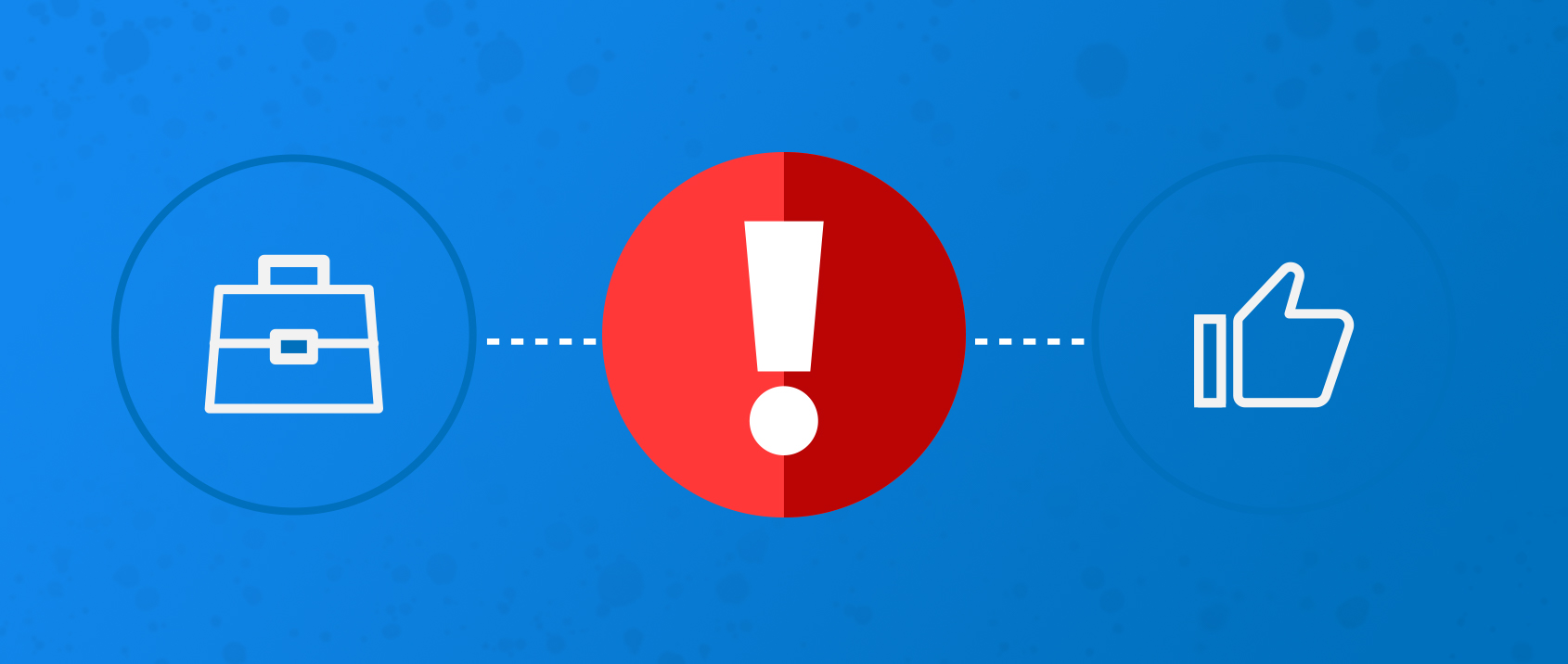 We spend 40 hours a week (or more) with our coworkers, so it's not surprising that we start to form friendships and close bonds. We work together, eat lunch together, share news and weather updates with each other. Our coworkers are inarguably a part of our everyday lives. And like any other people we meet in the real world, we like to make our friendships "official" by friending, following, or connecting on social media channels.
Social media use outside of work
So, what's the best way to connect with your coworkers on social media to avoid any confusion or awkwardness? We recently asked 2,000 employees working at medium-sized and large organizations about how they connect with their coworkers online. 76% reported that they connect with their colleagues on social media channels like Facebook, Instagram, LinkedIn and Twitter. A small percentage said they connect on Snapchat and Pinterest.

Facebook & Instagram
Connecting with coworkers on social sites like Facebook and Instagram can present some interesting challenges for employees. Are you ready to invite your coworkers into your home, your travel adventures, and your not-so-professional memories of the last 10 years? Most would say no. In fact, 71% of the employees we surveyed said they haven't posted on social media because they're afraid a coworker might see it.
Check out our State of Social Media in the Workplace Infographic for more social media in the workplace statistics.
LinkedIn
Connecting with coworkers on a more career-focused platform like LinkedIn might be a better alternative. That way, you can keep your conversations professional and work-related, without the threat of revealing too much about your personal life. That said, the platform is generally used to share news, articles, and other inspirational messages – not for sharing funny or interesting stories with the person sitting two cubicles over. So, where do those go?
What about email?
Email may be the obvious answer. But we all know how difficult it is to manage our inboxes these days – let alone contend with IT's ongoing mission to manage storage limits. Plus, private conversations over email aren't conducive to wider discussion or involvement from other coworkers. All you're left with is an office full of inside jokes and secret chuckles, which can not only be distracting but have a negative effect on team or company culture.
None of these solutions seem to be optimal for sharing non-work-related news, stories, links, and even memes with your coworkers. So, let's consider one more option: the company intranet or, more specifically, a dedicated social space within your company's digital workplace.
Bring social inside your digital workplace
Many organizations are already experimenting with platforms like Slack and Yammer, but there are many challenges with these messaging apps. Apart from their role in the proliferation of information silos throughout an organization, it's not always clear how to separate work from personal. They often become intermixed to the point where it's difficult to identify important updates through the noise, and they lose their purpose as they quickly skew to one side or the other.
An intranet connects everyone in one place
To have your best shot at success and high levels of engagement, create a dedicated space within your digital workplace that offers employees the social outlet they need to connect with their coworkers and break up their day. Here are some high-level benefits of taking this approach:
Employees don't have to jump across platforms. The social space is contained within the digital workplace, where they already spend most of their day.
Conversations among coworkers can happen in a secure and private area, reducing the risk of company information being shared on external sites.
Employees don't have to merge their work and personal lives, but can still feel comfortable sharing and participating on a personal level.
Employees get to know each other and may learn that they share common interests with their coworkers, which can bring them closer together and help break down previous barriers to greater collaboration and teamwork.
The company shows that it's committed to providing an excellent employee experience, by promoting the importance of building personal connections and non-work-related discussions.
This way, you create an environment where employees can be social while you worry less about creating social media policies and guidelines for the workplace. Employees are closer and have better cross-team communication, while you don't have to stress about them being distracted by other posts and interruptions on their social media timelines.
Create a culture of connectedness
So we can create a social workplace that brings coworkers together, but should we pursue these changes? The results of our survey show that employees want to connect with their coworkers on social media. Personal conversations and closer relationships in the workplace can improve productivity, communication, and collaboration across teams.
As an organization, you can enable all of this by providing the same easy-to-use features and functionality of popular social media platforms such as handling multiple Facebook accounts within a tool that's easy to implement and manage within your organization's digital walls.
For instance, integrate a staff room that allows employees to post, like, share, and comment, within your digital workplace environment. This enables a more social, enjoyable culture where people naturally feel connected and want to share and collaborate with each other. That can also have a halo effect on the rest of the organization because connectedness tends to be contagious and a connected workforce gets 20-25% more work done.
Keep these tips in mind when building and managing a social center inside your digital workplace:
Provide a dedicated space for employees to share photos, updates, and other content that isn't directly related to work.
Set parameters to ensure all interactions are safe and structured.
Increase engagement by coming up with a theme, conversation, or contest each month.
Reward participation with incentives like gift cards or other perks.
Understand the bigger picture
If you're interested in learning more, social media and workplace interactions drive some insights in our second State of the Digital Workplace Report. It identifies prevailing workplace challenges facing many organizations and offers innovative solutions that focus on digital tools and transformation. This can also help you uncover other potential concerns you might face, as well as put them into context with data and actionable strategies.
Learn about our other key findings by downloading the full report.