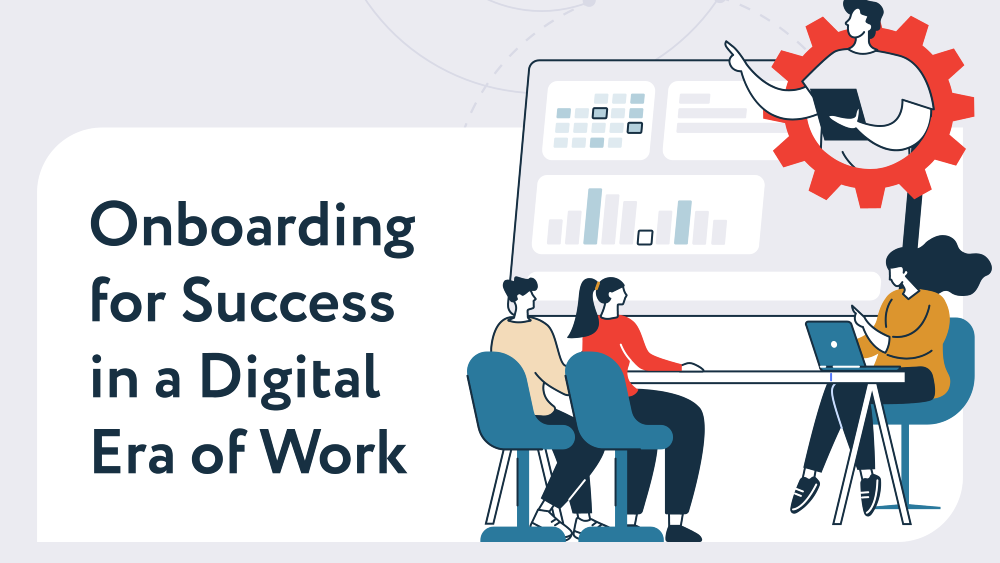 In the emerging era of remote and hybrid work, there is increased competition for talent in every industry. Employees have new opportunities to work with recruiters from all over the world, which gives them renewed awareness of their value in the job market. With this knowledge comes a new set of workplace expectations that, if left unfulfilled, could lead to rapid turnover among new hires.
These workplace expectations leave HR and talent acquisition teams with a need to develop onboarding programs and implement a new kind of retention strategy.
What is the first step organizations should take to combat high employee turnover, low engagement, and career stagnation?
Onboarding in a digital era of work
HR and talent acquisition teams must first start by reviewing their employee onboarding activities, both in-person and digital. How does your organization engage new hires? Engagement is critical to ensuring new hires not only understand their roles within the team and organization, but also that they gain a sense of personal investment that will lead them to greater success in that role.
Yet, a recent Igloo webinar poll found that 32 percent of organizations offer only in-person onboarding of new employees, while another 16 percent had no formal onboarding strategy at all. This data suggests that from the outset, a worrying portion of companies are overlooking a process key to retention and productivity.
How can HR teams address this gap in a way that engages new hires predictably and consistently toward meaningful, long-term results?
As digital tools become the norm in offices, remote work, and on the frontlines, the simplest way to ensure dependable outcomes is for HR and talent acquisition teams to implement a standardized onboarding process within a central digital destination.
Integrating a digital workplace
Powerful digital tools like digital workplaces are the foundation of effective onboarding processes. By starting with a central, digital destination, standardized resources and timelines can be built in an intuitive and accessible way that guides each new hire through their onboarding journey. It also doubles as a digital hub for employee culture and knowledge – assets that will only become more important as the new employee engages with their role.
A digital workplace platform such as an intranet can de-fragment an organization and streamline workflows, making it easier for new hires to understand and engage with projects and responsibilities sooner. With tailored strategies to help teams engage with each other, an intranet platform creates pathways to peer-to-peer engagement that raises the standard and speed of work. When employees have all the tools they need in a single, intuitive workspace, roadblocks crumble, and work can get done faster.
This begins with that standardized, central on-ramp that encourages employees to seek resources, knowledge, experts, and processes in the intuitive digital workplace. When the digital workplace is core to the employees' relationship with the company from day one, they are primed to get the most out of your intranet solution going forward.
How to build a digital onboarding strategy that works
When the onboarding process becomes largely self-guided within a digital workplace, how does the HR team ensure that engagement is happening?
At the same webinar we mentioned earlier, 51 percent of poll respondents shared that they do periodic check-ins during the onboarding process and 25 percent assign a mentor or coach to the new hire. These tactics can easily be applied in a digital workplace to monitor engagement and guarantee positive outcomes.
Another tactic digital workplace users found helpful was manager prompts. A digital workplace standardizes the employee onboarding experience by creating a guided, step-by-step introduction to the company, the brand, the values, the policies, and the expectations for new hires, but regular input from a manager or supervisor is always beneficial to reinforce critical lessons and waypoints.
Igloo's process for manager prompts is a split ownership model between corporate and managers. The company uses a standard, guided process for the first 30 days, supplemented by periodic manager check-ins to make it engaging, sticky and exciting for all new employees.
Whether an organization is just getting started or has some experience with this kind of digital tool, Igloo experts can recommend specific strategies to assist by following the "onboarding as a retention" strategy model.
Learn more about how digital workplace solutions can help
Based on these trends, it is clear that there's ample opportunity for innovative companies to bolster employee engagement across all points of their employee lifecycle by integrating a digital workplace solution. Igloo's Brad Rooke, senior solutions consultant, and Rebecca Nielsen, customer success manager, recently went in-depth on the subject with CARFAX's employee experience manager, Dustin Sweeney. Together, they discussed the complete approach to building an engaging onboarding process, enhancing productivity, and creating successful retention practices in the on-demand webinar, You Found Them, Now Let's Keep Them: Onboarding as Retention Strategy, presented by HR Executive.
To learn more about empowering every employee, new and old, to achieve more, perform better, and grow happier in the workplace, watch the on-demand webinar now: WATCH HERE